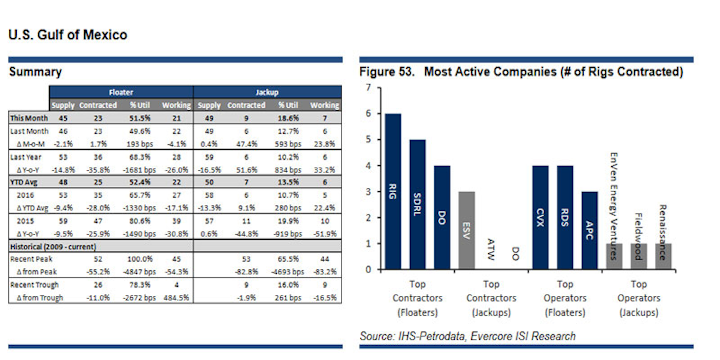 Offshore staff
NEW YORK– Evercore ISI's Oilfield Services, Equipment & Drilling group has released its offshore market report for May.
This latest update contained some positive news for the industry: The analyst firm reported that IHS' estimated floater values have recovered from its November/December 2016 trough of $210 million and $167.5 million forsemisubmersibles and drillships by 31% and 19%, respectively.
"We believe this upward revision is a sign the offshore rig market is bottoming, particularly as IHS' estimates are 'levels at which [they] believe there is a reasonable chance of a unit selling' and are based 'dialogue with potential buyers and sellers, oil companies, shipyards, [and] financial institutions.'"
The contracted floater and jackup count increased by 70 basis points (bps) and 90 bps, respectively, over the past month, which contributed to a 54 bps and 36 bps improvement in utilization. However, the working floater count is averaging 2.9% lower in May. The working jackup count continues to trend near recent highs, Evercore ISI noted.
There was no change in the global floater order book over the past month. However, the group noted that IHS officially revised the delivery dates for two 2017 deliveries to 2018: Odfjell Galvao'sDeepsea Guarapari and Stena's MidMax. Three 2018 deliveries were further pushed out to 2019: Seadrill's Camburi, Odfjell Galvao's Deepsea Itaoca, and Petroserv's Portogalo. IHS continues to list four Brazil-built units for 2017 delivery, including Queiroz Galvao's Urca in July, which Evercore believes should be discounted.
"We expect contractors to defer the majority of the 16 floaters currently scheduled for 2017 delivery where possible. Only three of these 16 units are contracted and likely to be accepted by non-Petrobras operators. All five units scheduled for May and July are unlikely to be accepted, in our view," Evercore said.
Assuming all contracted floaters are renewed and no additional retirements, the worldwide fleet is forecasted to grow by 15% over the next 36 months. Utilization would fall from 53.3% currently to 51.1% in April 2020.
One jackup fell off the global order book over the past month. National Drilling'sAl Lulu has commenced a year-long contract with ADMA-OPCO offshore the UAE. Only two or 2% of all jackups under construction are currently contracted, down from three last month.
Meanwhile, operators deferred four 2017 deliveries to 2018 and Evercore expects more than half of the remaining 29 to be deferred over time: Offshore Logistics'Explorer I, Petrolor Oilfield Services' Jing Hang and Jing Xuan, and Foresight Drilling's Vivekanand 3.
Statoil has two contracted jackups from KCA Deutag scheduled for delivery in June, delayed slightly from May. All 65 jackups being built in China remains uncontracted, representing 65% of the newbuild orderbook, which is unchanged from last month. Assuming all contracted jackups are renewed and no additional retirements, the worldwide fleet is forecasted to grow by 18% over the next 36 months. Utilization would fall from 58.7% currently to 50.0% in April 2020.
In terms of floater and jackup contract rollver, over the past month, two floaters (Odfjell'sDeepsea Metro I, TransoceanSpitsbergen) rolled off contract as expected, Evercore found. The Deepsea Metro I is currently hot-stacked but scheduled to commence a new short-term contract with Repsol in July. The Spitsbergen is also expected to commence a new contract with Statoil in July.
Meanwhile, Stena'sDrillMAX, Ocean Rig's Poseidon, and Noble's Paul Romano were all extended to 3Q, but Maersk Drilling's Viking is now contracted to December. Of the nine floaters scheduled to roll in 2Q, Rowan, Seadrill, Diamond, and Ocean Rig each have one rig at risk of going idle.
The 2Q17 jackup rollover count decreased to 19 from 32 over the past month, while the 3Q 2017 rollover count increased to 36 from 33. The analyst firm said it defines standard spec jackups as those that operate in less than 375-ft water depth and has less than three mud pumps and a less than 15,000-psi BOP.
In contrast, all high spec jackups are less than or equal to 375-ft I.C. units with at least three mud pumps and at least a 15,000-psi BOP. Evercore counted 164 high-spec jackups worldwide, including 25 under construction, making up about 26% of the 640 global jackup fleet.
An average of 125.8 floaters is contracted globally, down slightly from 127.3 last month. The floater count is 5.2 units or 400 bps below the firm's base case estimate of 131 units. Sequentially the floater count decreased in theUS Gulf of Mexico, northwest Europe, and South America, but increased in West Africa.
An average of 240.5 jackups is contracted globally, up from 239.8 last month. The jackup count is 1.5 units or 60 bps above Evercore's base case estimate of 239 units. Sequentially the jackup count decreased slightly in three of the four markets the firm said it tracks the most closely, with Mexico the exception where the rig count was flat.
06/01/2017