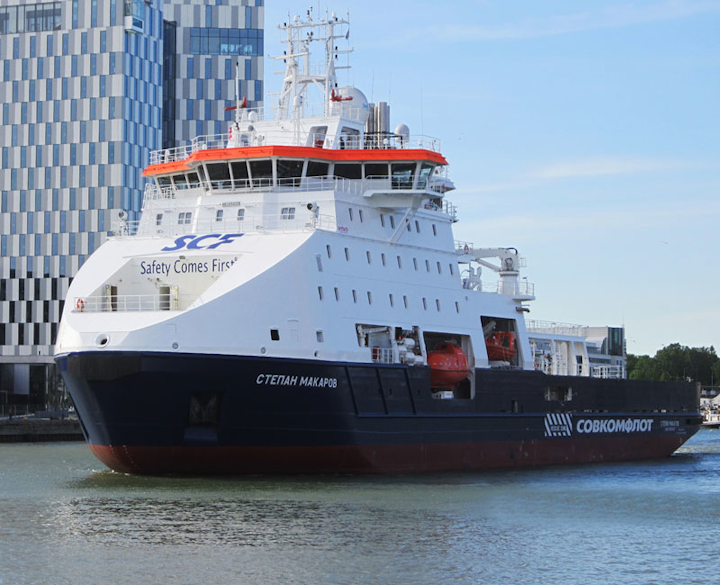 Offshore staff
SAINT PETERSBURG, Russia– PAO Sovcomflot (SCF Group) has held a naming ceremony for the first of three icebreaking standby vessels (IBSBV) commissioned for operations at the Sakhalin-2 project.
TheStepan Makarov was constructed at the Arctech Helsinki Shipyard and was commissioned under a long-term agreement between SCF and Sakhalin Energy for the Sakhalin-2 project. The vessel will have Saint Petersburg as her home port and is registered under the Russian flag.
Its main tasks are to ensure the safety of personnel on Sakhalin Energy's offshore oil and gas production platforms in the Sea of Okhotsk, to respond to emergency spills at sea, and to support the company's operations within its technical capabilities.
The 2,000-dwt IBSBV measures 95.6 m (314 ft) in length overall and 21.6 m (70.9 ft) in breadth.
The Russian Maritime Register of Shipping, which is providing technical supervision during the construction of all four vessels, has assigned an ice class of Icebreaker 6 to the new vessel.
The first IBSBV was named after Stepan Makarov, a Russian admiral and a polar explorer who played a prominent role in establishing the Russian icebreaker fleet. He introduced the idea to use icebreakers for Arctic Ocean exploration, and was directly involved in the design and construction ofYermak, the world's first Arctic icebreaker (1898).
The other two IBSBV are expected to be delivered later this year.
Another ship commissioned by SCF for this project, theicebreaking supply vesselGennadiy Nevelskoy, arrived at Sakhalin Island in April 2017.
The agreement between SCF Group and Sakhalin Energy, signed in 2014, involves the operation of all four vessels for 20 years.
06/15/2017