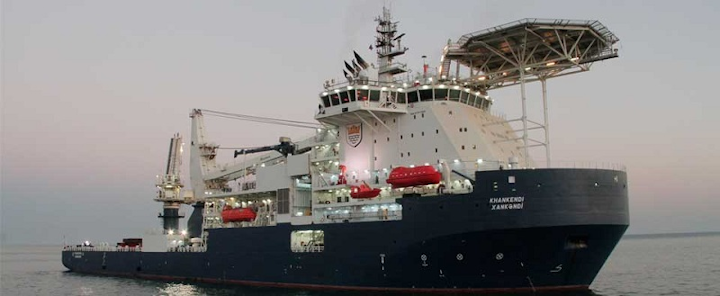 Offshore staff
BAKU, Azerbaijan– The Baku Shipyard has launched the Khankendi, a new flagship subsea construction vessel for the Shah Deniz Stage 2 project in the Azeri sector of the Caspian Sea.
The Shah Deniz consortium says that the $378-million vessel was specifically designed and built to install the biggest subsea production system for theShah Deniz Stage 2 project.
TheKhankendiwill now be deployed to the Shah Deniz field where it is expected to perform subsea installation and construction work over the next 11 years.
The vessel is 155 m (509 ft) in length and 32 m (105 ft) in width with 2,000 sq m (21,528 sq ft) of deck space. It has a total weight of 17,600 metric tons, a carrying capacity of 5,000 metric tons at 6.5 m (21 ft) draft and two engine rooms with 6 x 4.4-MW and 2 x 3.2-MW generators.

It is equipped with dynamic positioning to allow working in 3.5 m (11 ft) significant wave height, a 900-metric ton main crane capable of placing 750-metric ton subsea structures down to 600 m (1,968 ft) below sea level, an 18-man two-bell diving system, two work-class ROVs and a strengthened moonpool.
TheKhankendi is said to be able to carry out complex activities without the need for anchors. The vessel has a maximum capacity of 175 people on board, including the marine crew and discipline specialists. The personnel include both Azerbaijani nationals and expatriates with plans for extensive training, leading to the full nationalization of the staff.
09/06/2017