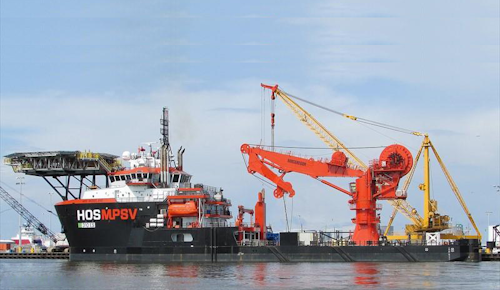 Offshore staff
MONTGOMERY, Texas – Delta SubSea reports that it has successfully launched the HOS Woodland, a new inspection, maintenance and repair (IMR) vessel that is designed to "go deep" while meeting or exceeding the latest stringent emissions and environmental requirements.
TheHOS Woodland is a 310-class HOSMAX vessel that has been equipped with two Delta SubSea Schilling HD 150-hp work-class ROVs. The vessel also contains a 250-metric ton AHC crane with 4,000 m (13,123 ft) of wire.
The new vessel is capable of performing IMR of subsea installations and construction support in theGulf of Mexico.
In addition to IMR work, the company says theHOS Woodland has been designed to perform a variety of deepwater services such as SURF installation, decommissioning activities, drilling support and deepwater well intervention projects.
Delta SubSea says that theHOS Woodlandis the newest and largest US-flagged IMR vessel operating in the GoM, and increases its IMR vessel fleet to five. The company notes that the vessel has just completed its third project, and is currently available for IMR or construction projects.
01/12/2017