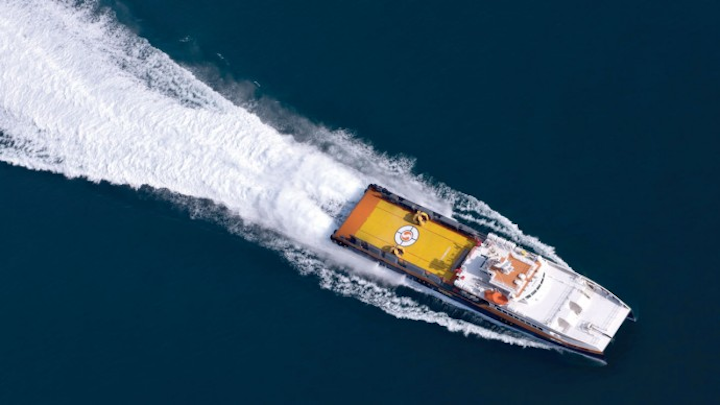 Offshore staff
DHAHRAN, Saudi Arabia – Saudi Aramco claims to have improved delivery of rig crews to its offshore oil fields following the introduction of a Sea Bus service.
The initiative, implemented by the company's Marine Department in February 2016, compliments the company's recently openedMarine Offshore Floating Hub at Tanajib.
Sea Bus involves use of two fast crew supply vessels (FCSVs),Alya McCall and Seacor Leopard.
Aramco saw a need for the service due to growing numbers ofdrilling rigs in Saudi waters: this was placing an increasing burden on the company's Aviation department to transfer additional rig crews and critical equipment to and from the rigs.
Crew transfers were previously conducted by helicopter: Sea Bus alleviates the load on the air fleet while also reducing transportation costs.
Other benefits are said to include the cancellation of procurement of 14 conventional crew boats, and lower greenhouse gas emissions due to the lower number of required vessels.
Aramco calculates the program will trim costs by around $40 million annually.
Last year Sea Bus transported more than 45,000 passengers from the Tanajib Marine Facility. Around 55,000 passengers/year should be transferred over the coming years.
The service, which covers the offshore Safaniyah, Manifa, Zuluf, and Marjan oil fields, also extends to emergency express cargo and critical equipment transfers on a daily basis.
This, Aramco says, helps to prevent costly rig shutdowns during well-control issues and ensures continued safe and reliable operations.
Sea Bus is an ongoing initiative of the Marine Department's Logistics Transformation Model that will eventually be rolled out to cover all Aramco's offshore passenger and equipment transfers.
These are centralized at a single point of control, maximizing deployment and availability of the service. This will be expanded to accommodate more offshore passengers to Northern Area Oil and Terminal Operations.
TheAlya McCall has a waterjet-propelled monohull design with a top speed of 38 knots, a capacity for 100 passengers, and 327 sq m (3,520 sq ft) of deck space for cargo.
Other features are a ride-stabilization system to improve passenger comfort, a DP-2 dynamic position system for accurate station keeping alongside rigs, FiFi-1 firefighting capability and standby certification (survivor craft).
TheSeacor Leopard is a waterjet-propelled catamaran with a top speed of 42 knots, capacity for 135 passengers, and 260 sq m (2,798 sq ft) of deck space for cargo.
Equipment on the bridge assists safe navigation at high speeds. This vessel too has a ride-stabilization system and DP-3 dynamic positioning for station keeping alongside rigs.
03/10/2017