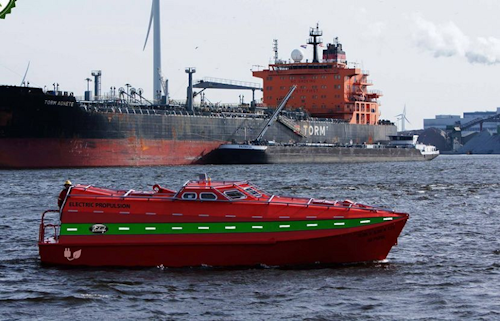 Offshore staff
GILCHING, Germany – Torqeedo has supplied the integrated propulsion system for an electric-powered freefall aluminium lifeboat, under construction by Verhoef in the Netherlands for Aker BP's current Valhall Flank West development in the southern Norwegian North Sea.
The vessel recently passed its final drop tests, making it the world's first fully functional electric lifeboat in the world, Torqeedo claimed.
This is the first of a new range of 32-passenger lifeboats, and the contract has an option for similar deliveries in future.
Verhoef/Torqeedo developed and tested the emission-free propulsion system comprising a 50-kW, 80 HP-equivalent, Deep Blue inboard electric motor powered by three 30.5 kWh Deep Blue batteries with technology supplied by BMW i.
The system is designed to withstand the heavy g forces of freefall launch and to provide 30-minute operation at full speed, followed by 10 additional hours at 50% of maximum speed.
An inverter is incorporated to drive a water spray pump, in case the craft has to pass through burning oil on the water's surface.
Switching to electric power is said to be more economic than diesel engines, which require substantial maintenance and repairs. Also, as Torqeedo pointed out, soot accumulation in the engines can cause internal damage and impact both the performance and reliability of the evacuation system.
Electric propulsion brings a further benefit in that it dispenses with the need to transport, store, and handle diesel fuel on the platform.
Verhoef estimates the electric propulsion system will cut operating costs by around 90-95% compared to combustion-powered lifeboats, and the built-in connectivity will allow the condition of the electric system to be monitored from shore.
04/16/2019