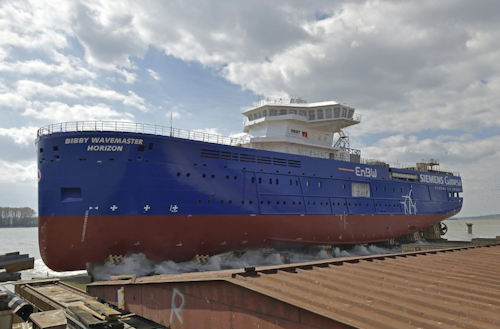 Offshore staff
GALATI, Romania– Damen has launched Bibby Marine Services' second service operations vessel (SOV) 9020 at Damen Shipyards Galati in Romania.
During the same event, the vessel was officially namedBibby WaveMaster Horizon. Upon delivery later this year, the SOV will begin maintenance work on two EnBW and Enbridge-owned windfarms in the German North Sea – Hohe See and Albatros – for Siemens Gamesa Renewable Energy and EnBW.
Damen said that it developed the SOV 9020 vessel following close consultation with the offshore renewable energy industry. The design combines walk-to-work capabilities with DP-2, a new motion-compensated gangway, hull design, internal layout, and comprehensive features to increase efficiencies and reduce costs.
Damen began construction of the second SOV at the same time as the first vessel, theBibby WaveMaster 1. This meant that, when Bibby Marine Services and Siemens Gamesa confirmed their contract at the end of 2017, the company was able to accelerate construction.
03/29/2019