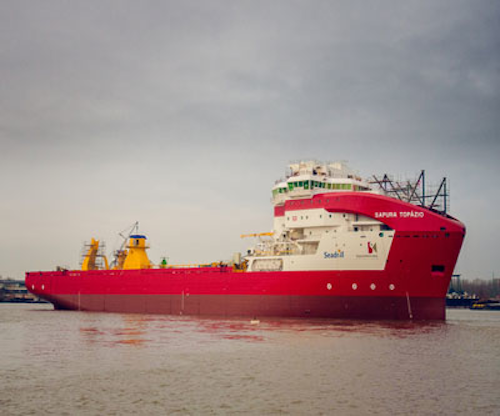 Offshore staff
KRIMPEN AAN DEN IJSSEL, the Netherlands – IHC Merwede has launched the pipelay vesselSapura Topazio at its shipyard close to Rotterdam.
The 550-ton, 145.9-m (479-ft) long vessel – ordered by the SapuraKencana and Seadrill joint venture Sapura Navegação Marítima – is destined for Brazilian waters to develop oil fields in up to 2,500 m (8,202 ft) water depth for Petrobras.
It will feature a pipelay spread designed by IHC Engineering Business and two below-deck storage carousels, with capacities for 2,500 tons and 1,500 tons.
A vertical (tiltable) lay system with a 550-ton top tension capacity will be permanently installed for deployment of a range of flexible products.
The tower orientation allows for maximum deck space, while using a 610-ton abandonment and recovery system. An IHC Drives & Automation-designed control system integrates each aspect of the pipelay spread.
02/27/2014