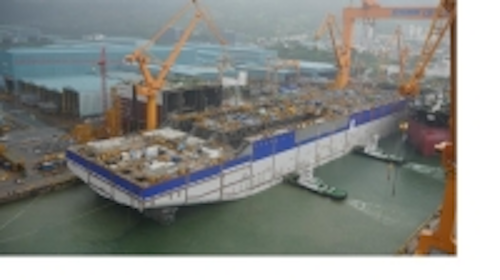 Offshore staff

TOKYO –The hull of the FPSO for the INPEX-operated Ichthys LNG Project has launched from the dry dock at the Daewoo Shipbuilding and Marine Engineering (DSME) shipyard in Okpo, South Korea.

The launch saw the 336-m-long (1,102-ft-long) by 59 m (194 ft) wide hull floated out of the dry dock and positioned quayside where construction will continue. The vessel is designed to hold 1 MMbbl of condensate.

Ichthys LNG Project Offshore Director Claude Cahuzac said the milestone was an impressive achievement, with an enormous amount of work carried out since the FPSO's keel laying ceremony.

"Prefabricated blocks weighing around 60,000 metric tons (66,138 tons) in total have been lifted into the dry dock and assembled to create the full-size FPSO hull we see on the water today," Cahuzac said. "While the hull is now at its full length from stern to bow and floating, it does not mean the FPSO is complete. We still have some work to do to complete the hull, and even more for the entire FPSO, including the fabrication and integration of the topsides, living quarters, and our next major milestone – the installation of the turret, which is currently under construction in Singapore."

The FPSO will be moored about 3.5 km (2 mi) from the Ichthys LNG Project's Central Processing Facility (CPF). It will process and store condensate from the CPF and periodically offload stabilized condensate to shuttle carriers for export directly to market.

Once complete, the facility will be towed 5,600 km (3,480 mi) to the Ichthys field in the Browse basin offshoreWestern Australia, where it will be permanently moored to the seabed for the life of the project.

07/08/2014