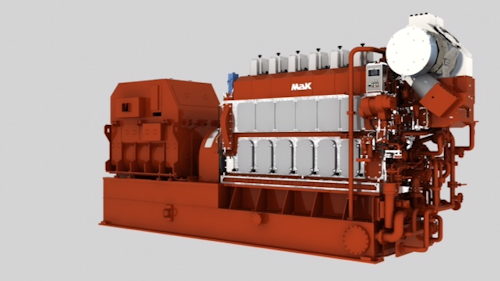 Offshore staff
HAMBURG, Germany – Caterpillar Marine reports that MaK diesel electric propulsion (DEP) solutions have been selected to power four Maersk Supply Service (MSS) newbuilds to be constructed by COSCO (Dalian) Shipyards.
Each vessel will be equipped with 4x MaK M 32 E generator sets with a power output of 4,400 kW each and 2x MaK 8 M 20 C at 1440 kW each. The new M 32 E engine solutions boast an increased power rating of 550 kW per cylinder at 720 and 750 rpm, with total output ranging from 3,300 kW for the six-cylinder configuration to 4,950 kW for the nine cylinder configuration. Additionally, the M 32 E generator sets feature the recently introduced constant speed part load kit for the M 32 E, providing fuel savings up to 10 g/kWh with a 3x33% load step capability.

Designed to carry out subsea cable laying, installation, and maintenance, the subsea service vessels will be rated for operations in water up to 3,000 m (9,843 ft). The MaK engines will be delivered to the shipyard with safety offerings including a high-standard exhaust cladding design for surface temperature control.
12/02/2014