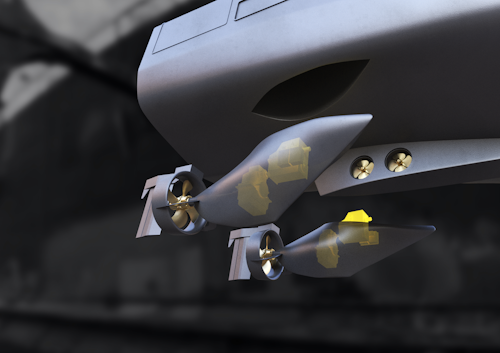 Offshore staff

HAMBURG, Germany – Caterpillar Marine will launch its Cat Propulsion Twin Fin system at the 2014 ITS Hamburg Conference and Exhibition, June 16–20. The Twin Fin system is a new diesel-electric solution that saves on fuel and emissions, while improving overall vessel performance. The system protects all of the propulsion mechanical parts within the hull profile while retaining reliability, cargo space, and maneuverability for outboard solutions.

Initially conceived for harsh operating environments, the system comprises a compact electric motor and gearbox configuration connected via a short drive shaft, rotating a pair of controllable pitch propellers whose performance is enhanced by two tailor-made fins attached to the hull. Major transmission parts in the system are accessible from inside the vessel, enhancing ease of maintenance and averting the need to dry dock.

The Twin Fin solution can be applied to newbuilds, retrofits, and conversions in any commercial marine application.

"We developed the Twin Fin system in partnership with Odense Maritime Technology and Scandinavian Marine Group initially as a solution to make vessels operating in Arctic conditions less vulnerable to damage to the propulsion system," said Mattias Hansson, Caterpillar Marine senior project manager. "As the innovative concept has been engineered into vessels, we've been pleased to not only see increased reliability but improvements in fuel consumption and thrust performance as well."

The Caterpillar Twin Fin system achieves efficiency gains measurable across a range of performance criteria. It offers increased thrust – and requires lower input power – thanks to larger propellers running at low shaft speed plus minimal mechanical loss. Hydrodynamically designed fins ensure homogenous water flow to the propellers for lower fuel consumption, plus lower emissions and noise radiation. To fulfill dynamic positioning duties, the system can be specified with tunnel thrusters, either attached to the fins or central skeg running between the fins.

Polarcus DMCC was the first operator to incorporate the Twin Fin system on a conversion project involving an Ultstein SX124 vessel.

"The Twin Fin system is a tailor-made system developed in close collaboration with our clients and is primarily intended for diesel electric vessel applications," Hansson said. "The system is designed depending on the operational requirements and profile in order to achieve optimum performance. In addition to being the most compact system of its kind for offshore vessels, the system has proven to be a robust performer during operation without diminishing maneuverability. It achieves better overall performance and increased cargo loading capacity in comparison with azimuth thruster applications."

06/19/2014