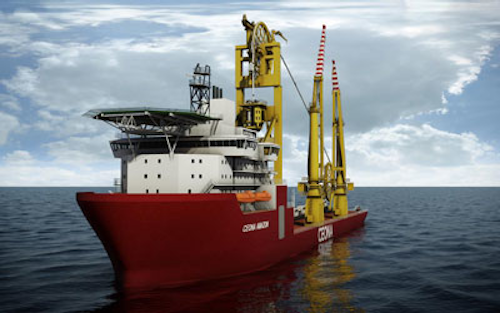 Offshore staff

SAN ANTONIO – Ceona is discussing the capabilities and features of the Ceona Amazon, a large, state-of-the-art, multi-function, dynamically positioned construction vessel, at the Subsea Tieback Forum & Exhibition being held at the Henry B. Gonzalez Convention Center in San Antonio, Texas.

Company officials say that the new vessel has a large under-deck storage capacity for line pipe or umbilicals, together with a deck area of 4,600 sq m (49,514 sq ft), which allows more storage of line pipe and standard flexible installation reels.

The vessel is fitted with two 400-metric ton (441-ton) heave compensated mast head cranes, and one 30-metric ton (33-ton) heave compensated knuckle boom crane. The pipelay system consists of an inclined lay system with a top tension of 570 metric tons (628 tons) and a rigid pipeline firing line system.

Ceona officials say that the vessel can lay rigid pipelines, flexible pipelines and umbilicals, and can install large subsea structures using one or both of its 400-metric ton cranes in tandem lift mode. Company officials add that the vessel does not require a spool base to support its operations and can be remotely operated, which makes theCeona Amazon well suited to overall field development.

03/05/2014