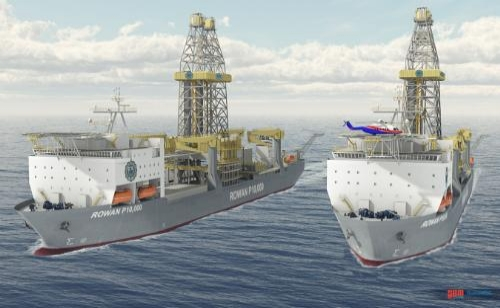 Offshore staff
HOUSTON– Rowan Companies announced that a subsidiary has entered into turnkey contracts for the construction of two ultra-deepwater drillships with a cost of approximately $605 million each. The drillships will be constructed by Hyundai Heavy Industries Co. at its Ulsan shipyard, and are expected to be delivered in late 2013 and mid-2014.
The DP-3 compliant, dynamically-positioned drillships will be equipped with retractable thrusters, dual-activity capability, five mud pumps, dual mud systems and a maximum hook-load capacity of 1,250 tons. Each will be equipped with a seven-ram BOP incorporating full acoustic backup control and storage and handling facilities for a second BOP. The drillships feature hull integration with below-deck riser storage, four million pounds riser tensioning, main load path active-heave drawworks with crown-mounted compensation, three 100-ton knuckle boom cranes, an active-heave 165-ton crane for simultaneous deployment of subsea equipment, a variable deck load capacity of 20,000 tons and accommodations for 210 personnel.
Matt Ralls, president and CEO, said, "Our long-stated strategy has been to focus on and diversify our offshore drilling business, and we are excited to take this first step into the ultra-deepwater sector. This investment will expand the breadth of Rowan's drilling services and enable us to address significant market and customer opportunities in the deepwater arena."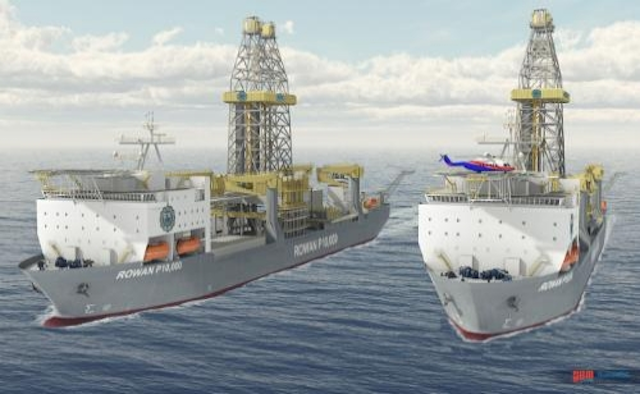 The new Rowan Companies drillships will be of the GustoMSC P10,000 design, capable of drilling wells down to depths of 40,000 ft (12192 m) in waters up to 12,000 ft (3,658 m).
06/03/2011