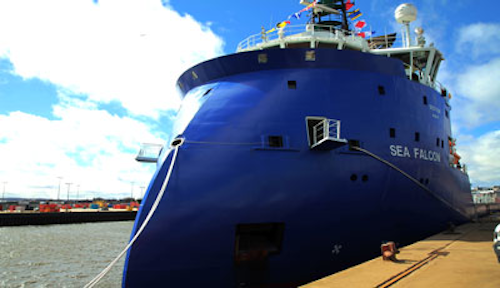 Offshore staff
ABERDEEN, UK – Sinopacific and Deep Sea Supply have staged a naming ceremony for the first in a series of 12 new PX105 platform supply vessels (PSVs).
Designed by Ulstein Design & Solutions,the 4,543-ton dwt vessel,Sea Falcon, is 88.8 m (291 ft) long overall, 19 m (62 ft) broad, and 8 m (26 ft) depth molded, with a service speed of 15.7 knots at 5 m (16.4 ft) draft.
PX105's hull line features Ulstein's X-BOW design, claimed to minimize impact from rough seas and to ensure the vessel's safety and stability.
Its generator exhaust emission meets the European Automobile Emission Standard, and the entire vessel is Class 3-compliant in terms of noise, vibration, temperature, humidity and comfort, Sinopacific says.
4/24/2013