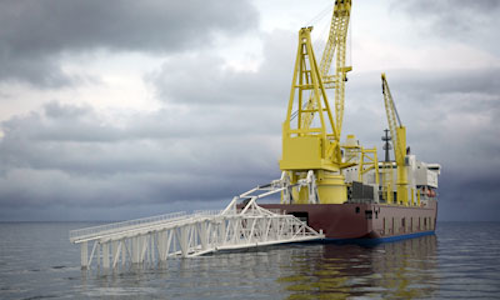 Offshore staff
ALMERE, the Netherlands – Ulstein Idea Equipment Solutions is customizing its chain-type stinger handling system concept for three companies on three continents. The compact system is designed to improve the design of the pipelay vessel and the efficiency of pipelay operations.
Pipelines are generally installed using S-lay in shallower waters and J-lay for deeper waters. However, as S-lay provides a certain advantage over J-lay in terms of optimizing the pipe-joining process, there is interest in extending S-lay for deeper waters, Ulstein claims.
Deeper waters require the stinger and its handling system to be able to operate at higher loads. Traditionally, the stinger handling system comprises winches with wires and sheaves, with loads limited by available deck space due to the presence of the offshore crane.
Another disadvantage is that wires have to be frequently exchanged, incurring high cost and downtime for (de-)reeving.
For most heavy-lift operations, the stinger is removed and to avoid time (de-)reeving the cables, an A-frame is typically added to the stinger handling configuration. But this causes an obstruction to the firing line for objects that may need to be supported from the vessel into the water.
Ulstein says its compact chain-type stinger handling system has a small footprint, leaving space for most lifting operations. The system comprises hydraulically-driven chain pull units, using only proven technologies and components. For large heavy-lift operations these units, including the chain, can be swiftly removed by taking out some pin connections and other connections at the manifold.
The system does not require a heavy and costly A-frame, and as the main pulling system comprises large-capacity cylinders, it can be easily upgraded to avoid slack chain due to stinger uplift, using components already present.
Features include more free deck space on rear deck; less interference with lifting operations; reduced (de-)mobilization time; large object handling along stinger; and the possibility to build in a stinger uplift peak load prevention.
4/18/2013