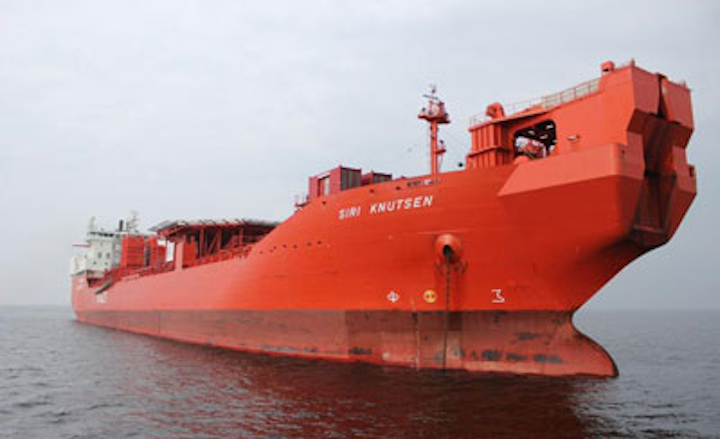 Offshore staff
STAVANGER, Norway – Statoil has commissioned what it claims is the world's first well stimulation tanker to help extract more oil from the Snorre field in the North Sea.
Siri Knutsen, formerly a shuttle tanker, was converted for the role. Its new mezzanine deck is equipped with three fresh-water modules, five pumps, and a control system. A new helicopter deck and larger accommodation quarters also have been added to the vessel. 
The fresh water, along with sodium silicate, will be injected into the well E-4 H water injection well onSnorre. With water injection, oil in the porous sandstone is pressed out by pumping water into the rock. However, the quality of the sandstone varies in different parts of the reservoir, so large quantities of oil can remain out of reach.

Kjetil Skrettingland, responsible for subsurface in the pilot technology project on Snorre, said: "By pumping down water to which sodium silicate has been added, we can shut down the 'line of least resistance.' The sodium silicate is affected by the reservoir temperature and acquires a gel-like consistency. This gel blocks the pores in the reservoir where the water flows most easily, forcing it to find new routes."
Statoil aims to force more oil into the P-15 production well, 2 km (1.2 mi) from the new injector, with hydrochloric acid also added to the mixture in order to adjust the pH level.

"There are several reasons why these are a good couple of wells for such a pilot," said Nina Iren Kåsa, production engineer in Snorre petroleum technology. "Firstly, the wells are located in a relatively isolated segment of the reservoir" – this means that proven changes to the flow pattern are not caused by changes in other wells.

"Secondly, we have seen that there is a main channel, a so-called 'thief zone' between the wells where a considerable amount of the injection water flows. It is this main channel we wish to close."

Since 2008, Statoil has been working on developing a method to prevent the water flow with the aid of sodium silicate. Initial tests were performed in a laboratory on a 2-m (6.5-ft) scale in 2008 and 2009, followed by a 40-50 m (131-164-ft) scale field trial in a well in on Snorre A in 2011. This summer and fall the company plans a large-scale field test.

Halliburton and Knutsen OAS are supplying the equipment and vessel. Total cost, including conversion of the tanker, is about NOK 380 million ($62 million).

6/24/2013