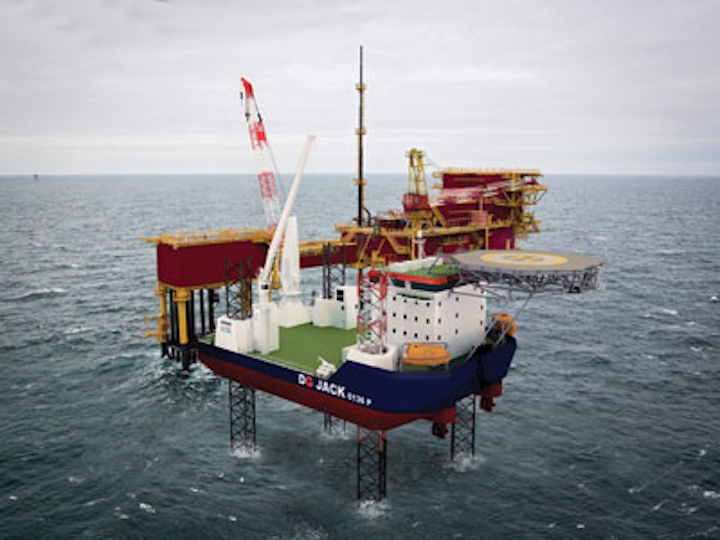 Offshore staff
HOUSTON–Damen Shipyards Group and GustoMSC have formed a collaboration to produce a range of self-propelled and non-self-propelled jackups called DG JACK. A rendering was unveiled at the announcement, held in the Damen booth on the exhibition floor at the Offshore Technology Conference. 
The collaboration will be based on GustoMSC's experience in designing jackups and provision of jacking systems, combined with Damen's background in shipbuilding and vessel optimization, financing, and worldwide after-sales services, the companies said.
GustoMSC Managing Director Nils van Nood said of the collaboration: "We are very pleased to team-up with Damen to provide their clients proven and reliable jackup solutions. These jackups form an expansion of the Damen portfolio, targeting the offshore markets in oil and gas, renewables like offshore wind, and civil construction. The jackups will be based on GustoMSC's proven designs and will include GustoMSC's proven jacking systems.
"As a result of this collaboration the joint Damen and GustoMSC team is fully aligned to provide an optimized solution covering the complete lifecycle of the units, including during operational life."
The collaborators said that the arrangement provides the market with "a total solution," offering them total control over the entire process, "from design, through construction, to after-sales care – anywhere in the world."
The decision to partner up and produce the DG JACK range is based upon feedback from the offshore markets. The new jackups will operate across the offshore spectrum, in both renewable and non-renewable sectors.
Damen Head of Business Development Peter Robert explained: "In the oil & gas markets, the demand for self-elevating service vessels such as the DG JACK range is driven largely by operation and maintenance requirements. Age significantly increases the amount of topside repair, maintenance and refurbishment the operator must undertake for the platform to remain serviceable and compliant. In such circumstances the DG JACK represents an extremely cost-effective solution.
"At the same time, shallow-water offshore fields remain a major source of production. With enhanced technology and recovery, combined with the relatively low cost of production compared to deep and ultra-deepwater locations, such sites will ensure a continuing demand for the DG JACK range, particularly at this time of low oil prices."
05/02/2016