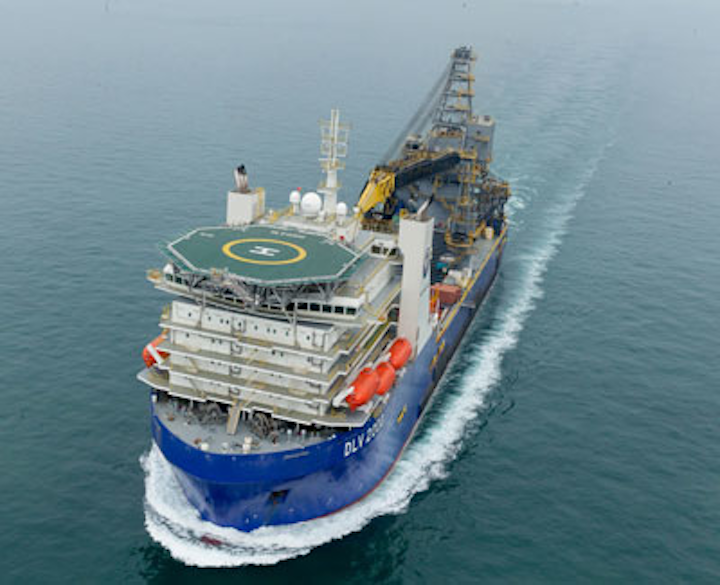 Offshore staff
HOUSTON and SINGAPORE– McDermott International Inc. has formally named its flagship Derrick Lay Vessel 2000(DLV 2000) during a ceremony at the Keppel Singmarine Shipyard in Singapore. 
TheDLV 2000 is a DP-3 vessel that combines a 2,200-ton (1,995-metric ton) revolving crane with a deepwater under deck S-lay pipelay system configured to install pipelines with diameters ranging from 4.5 to 60 in. in water depths up to 10,000 ft (3,048 m).

The vessel can accommodate up to 400 personnel to facilitate large hook-up and commissioning projects, and incorporates a large, 43,000 sq ft (3,995 sq m) open deck to allow the transportation and assembly of large subsea structures.
The vessel's first assignment is scheduled offshore Western Australia on theINPEX Ichthys LNG project. It is expected to join the project in May for several months as part of the company's work program by providing heavy construction support for the subsea system. 
Work is scheduled to be performed in conjunction with McDermott's other new subsea installation vessel, theConstructionSupport Vessel 108(CSV 108). The CSV 108 is expected to undergo an upgrade later in 2016 to install a vertical lay system and reel deployment system for use on the project and will then be referred to as the Lay Vessel 108 (LV 108).
Additionally, theDLV 2000 is scheduled to support the transportation and installation contract awarded by Woodside Energy Ltd. for the Greater Western Flank Phase 2 subsea pipeline and installation project off Western Australia. 
04/14/2016

Share your news with Offshore at news@offshore-mag.com