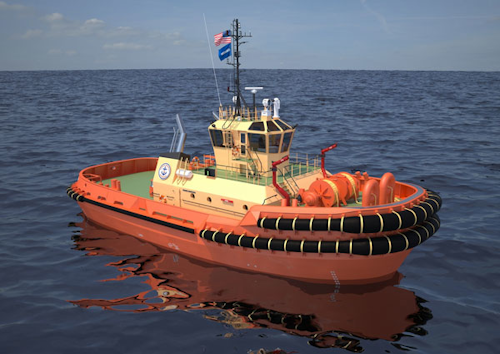 Offshore staff
GORINCHEM, the Netherlands – Edison Chouest Offshore (ECO) has teamed up with Damen to build 13 heavy duty mooring assistance and escort tugs. These will be deployed on two maritime projects for which ECO has recently won contracts, based in part on the use of Damen tug designs.
Earlier this year, ECO won a contract with a new Corpus Christi, Texas-based LNG export terminal. The agreement is for the supply of four escort tugs with a bollard pull of 80 metric tons, to operate at this new LNG terminal in Texas, which is currently under construction. The Damen tugs will be of the escort/mooring ASD 3212 design.
More recently, ECO has won a long-term contract in Alaska. The company is taking over the ship escort-response duties out of Valdez, Prince William Sound, from July 2018. It will require nine, high-powered escort tugs.
Damen and ECO will work together to deliver four more ASD 3212 tugs with a bollard pull of 70 metric tons each and five of the ASD 4517 tugs with a bollard pull of 150-plus metric tons. The ASD 4517 is a joint Damen and ECO developed escort tug specifically designed for the sometimes challenging weather conditions in the Prince William Sound.
Gary Chouest, president/CEO of Edison Chouest Offshore, said: "Chouest was pleased to have this opportunity to take Damen's proven hull design and helped create a new, state-of-the-art escort design representing the most powerful ASD tug ever designed or built."
10/24/2016