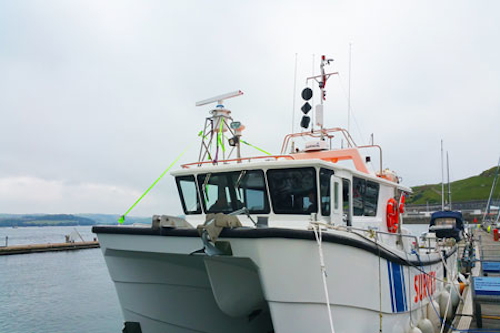 Offshore staff
YATELEY, UK – Sonardyne International Ltd. has chartered one of its Plymouth-based trials vessels to Guidance Marine.
TheEcho Explorer, a 12-m (39-ft) survey-class catamaran and its crew were hired to support sea acceptance trials of Guidance Marine's new long-range microwave position reference sensor, Artemis Mk6, ahead of its official launch in August.
The system is designed to measure the range and bearing of a mobile asset relative to a fixed position and is typically used during the offloading and transportation of oil between FPSOs and shuttle tankers.
Built in 2014, theEcho Explorer is one of four vessels Sonardyne operates from its Sea Trials and Training Centre in Plymouth, a facility established to support companies evaluate new surface and subsea marine technologies. In addition to a fleet of survey craft, the facility also has training classrooms, an inshore ROV, fully equipped workshops, client offices and onsite accommodation.
Nick Sheraton, operations manager for the center, said: "Plymouth's appeal as a marine testing ground lies in the diversity of water bodies, water depths, harbors, and natural inlets that are on offer within a short vessel transit from one of the city's many marinas. This maximizes the time available engineers have to evaluate equipment following arrival at a test site."
For Guidance Marine's trial, an Artemis Mk6 was installed on the roof of theEcho Explorer and its performance compared to a Mk5 and another Mk6 unit positioned onshore.
Milijan Mudrinic, Software Technologies Group Manager at Guidance Marine, said that by the end of the first day, three 10-km (6-mi) runs following the same waypoints had been completed with nearly 700 MB of data collected for analysis.
10/06/2016