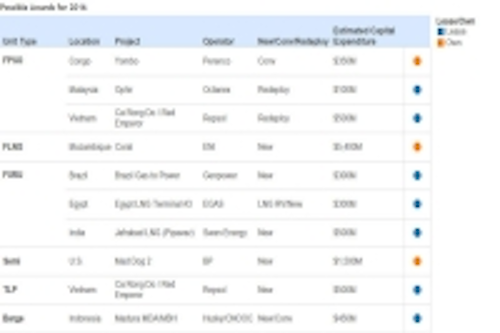 Offshore staff
SINGAPORE– While only a few floating production systems have been ordered this year, Energy Maritime Associates (EMA) says it expects the market to improve next year.
In its "4Q 2016 Floating Production Systems Report," EMA reviewed the market for floating production systems, including FPSOs, FLNGs, FSRUs, TLPs, spars, semis, FSOs, and MOPUs.
In 3Q, two more FSRU contracts were awarded, bringing the year to four units — all FSRUs. Three of these awards were for speculative newbuild units, while the other was deployment of the LNG regas vesselExcelerate for FSRU service in Abu Dhabi.
Chevron awarded a $230-million contract to MISC to convert an FSO to replace the Benchamas Explorer, which has been operating in Thailand since 1999.
In addition, three units were delivered: one semi (Petrofac'sFPF-1), one LNG FSO (Bumi Armada's LNG Mediterrana), and one MOPU (Uzma's Marsya).
The analyst has identified certain signs of an improving FPS market.
According to the report, EMA has identified 10 possible awards within 2016. However, most will be deferred into 2017 as oil companies continue to push back spending. The most likely upcoming awards have a combined capex of $6.35 billion:Coral FLNG (Mozambique), Ophir FPSO (Malaysia), Yombo FPSO (Congo), and Ca Rong Do FPSO and TLP (Vietnam).
The analyst says Petrobras plans to order seven FPSOs by 2018. After a two-year pause, Petrobras plans to lease large FPSOs for theLibra Pilot and Sepia (tenders under way), Buzios V, Marlim Revitalization I and II, Libra 2, and Parque das Baleias developments.
The report also identified 46 idle FPS units: 24 FPSOs, 10 production semis, six FSOs, five MOPUs, and one FLNG. This is up from 26 at the beginning of the year.
Finding new employment for these bespoke assets is not easy. According to EMA, while some will be put back in service, the majority will likely be recycled, like theFPSOFalcon. This FPSO was first of three "generic" West African FPSO ordered by Exxon, which were designed for a range of field properties, weather conditions, and water depths. Despite these features, the FPSO Falcon was never redeployed.
David Boggs, managing director of EMA, said: "Unless there is a sudden surge of awards in the next two months, 2016 will be the worst year ever for the floating production market. We expect improvement next year as companies are reassured by more stable oil prices and take advantage of lower costs.
"The record low drilling rates in particular create a window of opportunity for deepwater and marginal fields. Reuse of available assets can also enable cost-efficient production. However, this situation will not last forever. Companies that take FID sooner will benefit from availability and reduced costs throughout the supply chain, while those that delay too long will find costs escalating beyond expectations."
10/20/2016