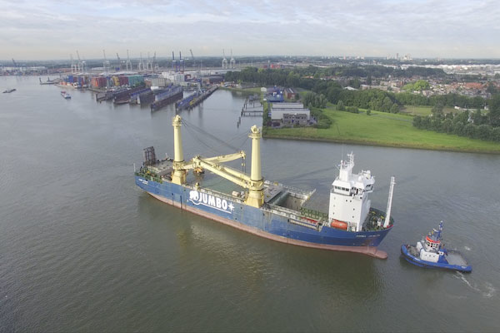 Offshore staff
ROTTERDAM, the Netherlands – Damen Shiprepair Van Brink Rotterdam in the Netherlands says it has completed a three-week repair project on the Jumbo Javelin, a DP-2 heavy-lift crane vessel owned and operated by long-standing Damen client Jumbo.
The major aspect of the repair was the replacement of the frames of 15 box coolers. To minimize the time spent in dock, 12 of these were prefabricated prior to theJumbo Javelin arriving at Van Brink, and the remaining three were built during the docking period. The majority of the steel work was performed by Damen Group company and steel specialist Niron Staal Amsterdam.
Additional works included a modification to an existing tweendeck to make it more suitable for its purpose, and the repair and repositioning of the exhaust pipe stack. The lifeboats also underwent routine maintenance. The works were completed in the time originally specified in the quotation.
The 145-m (475-ft) vessel was built at Damen Shipyards Galati in 2004, along with three similar vessels for the same owner. Together, theJumboJavelin, Fairplayer, Fairpartner, and Jumbo Jubilee make up the Jumbo J-Class fleet.
As well as generalheavy-lifting assignments – the Javelin recently transported two, large accommodation modules from Croatia to Cameroon – the four ships are active in offshore oil and gas and wind projects, including installing transition pieces for wind turbines.
TheJumbo Javelin previously spent 50 days in 2014 at Damen Shiprepair Rotterdam for repairs and her second special survey.
10/03/2016