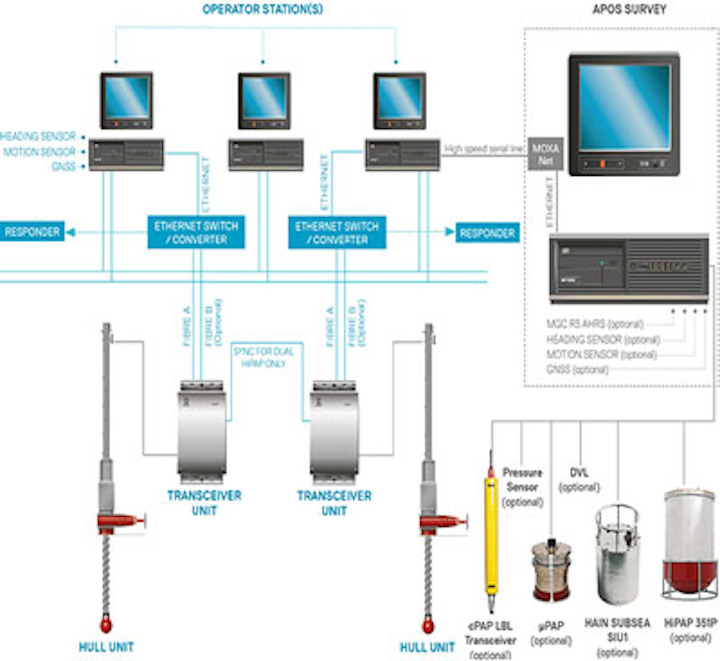 Offshore staff
ABERDEEN, UK – Kongsberg Maritime's UK division has completed what is claimed to be the first ever APOS Survey installation on Bibby Offshore's charter vessel Olympic Bibby.
The new APOS Survey operator station, introduced last month, allows surveyors to useKongsberg Maritime's HiPAP (High precision acoustic positioning) system to generate accurate survey results and as a DP position reference.
APOS Survey, Kongsberg adds, provides full LBL and SSBL and faster mobilization times. It is designed for both permanent and temporary installation onvessels, offsetting the mobilization cost and time associated with over the side portable transducers.
The system communicates directly with the HiPAP transceiver, allowing the surveyor to operate independently of the bridge. Acoustic interrogations are interleaved or run simultaneously with the DP system updates, without having to make changes to the vessel's APOS software or installation parameters.
The surveyor can interface local survey grade sensors, IMU, gyro and GNSS, and set up lever arms and load sound velocity profiles independent of the vessel.
Ed Fennell, sales manager, subsea of Kongsberg Maritime's Aberdeen base, said the software safely integrates into the vessel's HiPAP system through a high-speed, optically-isolated serial connection to maintain independence from the vessel's DP network, and allows the bridge crew to maintain full control of what is shared with APOS Survey.
"Additionally, the software in APOS Survey removes any restrictions normally associated with operating a HiPAP system for survey purposes as it is predominantly used as a (DP) reference system."
01/11/2016
Share your news withOffshoreat news@offshore-mag.com