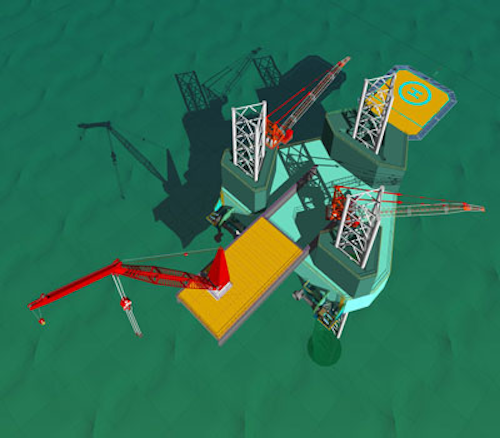 Offshore staff
HOUSTON – William Jacob Management Inc. (WJM) has secured a contract to complete the detailed engineering and design of its first mobile offshore support services vessel, the MOSS V.
Northport Marine LLC will be the first to receive delivery of the new concept vessel, scheduled for completion in 1Q 2018.
The MOSS V is a self-propelled vessel converted from ajackup drilling rig. Potential applications include rigless P&A, construction support, floatel, storm damage repair, decommissioning, wireline, workover, support of a skid off rig, and maintenance.
WJM will provide the engineering design and construction management for the conversion and refit of a candidate vessel, several of which have been identified.
The vessel is designed to operate in 350 to 400-ft (107 to 122-m) water depths. It will feature a 10,000-sq ft (929-sq m) open deck, 2,000-sq ft (186-sq m) enclosed machine and welding shop, 500-ton crane, helideck, and 85-person living quarters.
Michael Duffy, president of WJM, said: "The MOSS V is a self-propelled vessel, with all the advantages of a heavy, robust standard jackup drilling rig, but with the added design benefits of self-propulsion, 10,000-sq ft deck space, and ability to undertake a wider variety of work in deeper water.
"Its versatility makes the MOSS V a one-stop shop for a variety of offshore requirements."
03/30/2016
Share your news withOffshore at news@offshore-mag.com