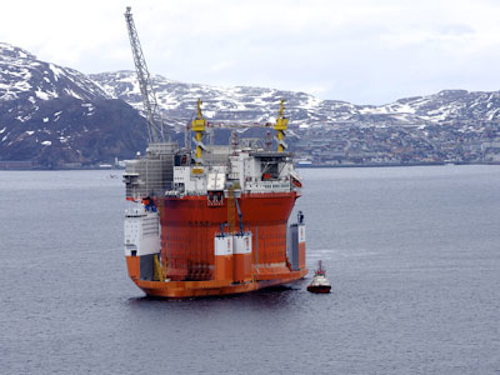 Offshore staff
SANDNES, Norway – The Goliat cylindrical FPSO has arrived in Hammerfest, northern Norway, following a 63-day voyage from South Korea onboard the Dockwise Vanguard.
According to operator Eni Norge, the platform now undergoes final preparations forfirst oil production later this summer from the Barents Sea.
In the fjord outside Hammerfest, the deck of the transport vessel will be submerged to a depth of 10 m (33 ft), allowing the platform to be floated off into the sea. Five tugboats will then take the 170-m (558-ft) tall structure to Ersvika, southwest of Hammerfest.

Work there will include inspections, tests, and checks of all systems and equipment. Eleven vessels will participate in the in-fjord work phase, which is expected to last between two and three weeks.

Once work has been completed at Ersvika, the platform will be towed roughly 80 km (49.7 mi) to the Goliat field location where it will first be connected to its 14 anchor lines.
Next, the umbilicals and risers will be installed and the platform will then be connected to the electrical power cable from the mainland. Finally, the platform and subsea systems will be made ready for production.

Eni claims this is the world's largest and most advanced cylindrical oil production platform, designed and constructed to adapt to the long winter nights and icing hazards encountered in the Barents Sea.
It is fully winterized and designed to withstand 100-year Barents Sea storm conditions. Other technologies have been developed to allow the platform crew to deal with any emergency response situations.
Once operations have started, the platform will be manned by a crew of around 40. The field will be operated from Eni Norge's control center in Hammerfest.
04/22/2015