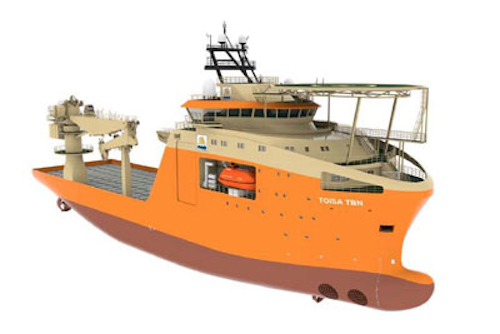 Offshore staff
SINGAPORE – Sealion Shipping has contracted Qingdao Wuchuan Heavy Industries to build two multi-purpose offshore construction/ROV support vessels on behalf of Toisa Ltd. Delivery is expected in mid-2017.
Each DP-2 vessel will have two offshore, active-heave compensated, knuckle boom cranes: a 150 metric ton (165 ton) crane with a depth capability of 3,000 m (9,842 ft) single fall, and an auxiliary crane with a capacity of 25 metric tons (27.5 tons) and a single fall depth capability of 2,000 m (6,562 ft).
The design calls for a working deck area of 1,100 sq m (11,840 sq ft) and a working moonpool of 7.2 x 7.2 m (23.6 x 23.6 ft). Deck loading is rated for carriage and deployment of certain heavy equipment and project related machinery. Sealion says that operational safety is enhanced with provision of an enclosed ROV hangar designed to accommodate two large work class ROVs for over-side launch.
04/16/2015