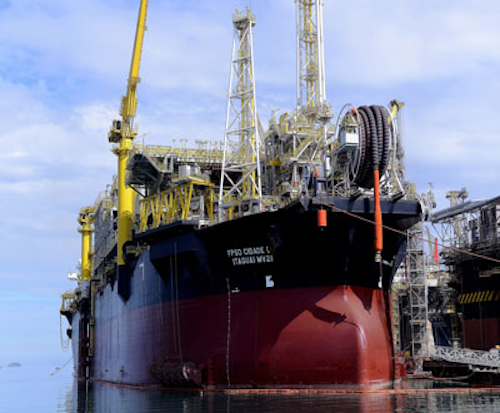 Offshore staff
RIO DE JANEIRO – Petrobras' newly-converted FPSOCidade de Itaguaí is anchored in 2,240 m (7,349 ft) of water in the Iracema Norte area of the Lula field in the presalt Santos basin.
The Schahin/Modec consortium, which was responsible for converting the hull, constructing, and integrating the topsides modules at the BrasFELS shipyard in Angra dos Reis, will also operate the vessel.
It will eventually be connected to eight producer and nine injector wells, with capacity to produce 150,000 b/d of oil, to store 1.6 MMbbl, to compress 8 MMcm/d (282 MMcf/d) of natural gas, and to inject 264,000 b/d of water.
Oil production is expected to begin later in the current quarter, with gas exported to shore via a subsea gas pipeline.
Ten of the modules were at the EBE shipyard in Itaguaí, Rio de Janeiro, and two more at the Schahin shipyard in São Sebastião, São Paulo.
Iracema Norte is in exploration block BM-S-11. Petrobras operates, in partnership withBG and Petrogal Brasil.
BM-S-11 is being developed through a consortium featuring Petrobras (leader and operator, with a 65% stake), BG E&P Brasil Ltda (25%) and Petrogal Brasil SA (10%).

07/06/2015