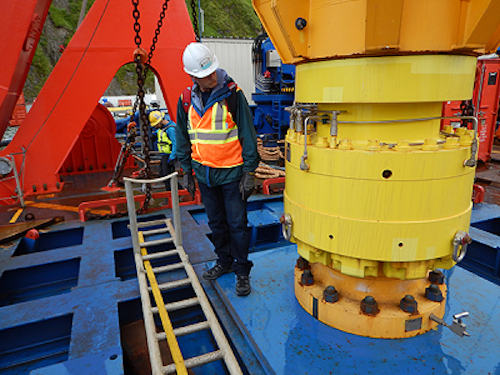 Offshore staff
ANCHORAGE, Alaska – Two US Bureau of Safety and Environmental Enforcement (BSEE) personnel conducted inspections of Shell Oil Co. marine vessels Noble Discoverer and the semisubmersible drilling unit Transocean Polar Pioneer in Dutch Harbor, Alaska, from July 7-12.
These vessels are part of Shell's exploration plan (EP) for theChukchi Sea, which received conditional improvement from the US Bureau of Ocean Energy Management (BOEM) in May.
While onboard the vessels,BSEE inspectors reviewed drilling equipment, assessed overall readiness, and tested key safety devices. They also verified BOEM lease stipulations, environmental mitigation measures, and air quality equipment, as well as Environmental Protection Agency National Pollutant Discharge Elimination System permit requirements.
Additionally, BSEE Alaska Region Director Mark Fesmire conducted a re-inspection of the capping stack onboard the ice management vesselFennica, which was damaged July 3 while departing Dutch Harbor. The Fennica currently carries the capping stack. Although the Fennica's damage requires that it be returned to dry-dock for repairs in Portland, Oregon, BSEE personnel verified the capping stack was not damaged during the incident.
Once drilling operations commence, BSEE inspectors will be deployed on the drilling rigs 24 hours a day, seven days a week, providing continuous oversight and monitoring.
According to BOEM, Shell's EP proposed the drilling of up to six wells within the Burger prospect, located in approximately 140 ft (42 m) of water about 70 mi (112 km) northwest of the village of Wainwright.
07/16/2015