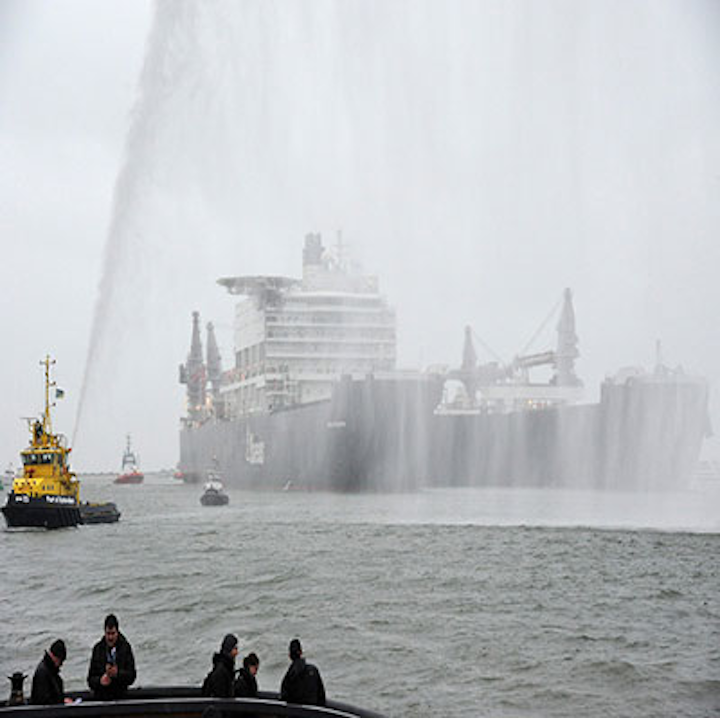 Offshore staff
ROTTERDAM, the Netherlands – Allseas'Pieter Schelte has arrived in Rotterdam. At 382 m (1,253 ft) long and 124 m (407 ft) wide, it is said to be the biggest ship in the world.
The dynamically-positioned platform installation /decommissioning and pipelay vessel, built by Daewoo Heavy Industries in South Korea, will spend the next four months in Rotterdam before undergoing final assembly in the inner lake of Maasvlakte 2. Among other things, 65-m (213-ft) support beams will be fitted to the ship.
Including this work, the Port Authority of Rotterdam estimated the spin-off of total construction ofPieter Schelte for Dutch business at €700 million (more than $800 million) and involved 440 different Dutch companies.
The twin hull giant recently lost itsSouth Stream pipeline contract when Russia announced in December that it decided to drop the project, which would see Russian gas exported to Europe through the Black Sea.
01/09/2015