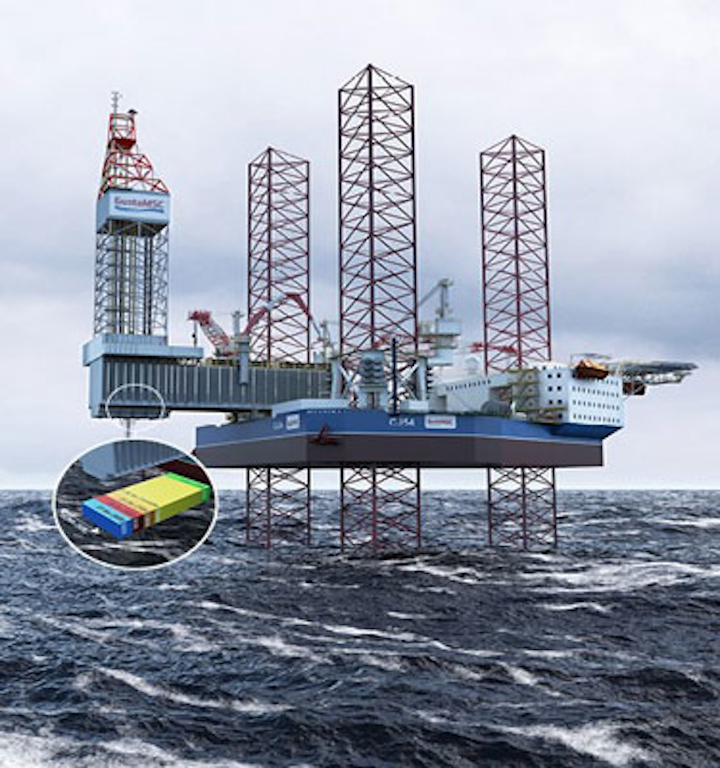 Offshore staff
LONDON – GustoMSC has unveiled the CJ54 cantilever drilling jackup at the SPE/IADC exhibition in London.
The company describes this as a cost-effective rig for fields in water depths up to 450 ft (137 m), opening a new operational area in theGulf of Mexico, near the coast of West Africa, and Southeast Asia.
Main prospects are operations in the range 350-450 ft (107-137 m) of water, potentially involving large leg penetrations.
The focus of the design of the company's CJ series jackups is on stable and efficient operations, with drilling interruptions reduced to a minimum. The CJ54 is equipped to perform exploration and development drilling with a design wave of 70 ft (21.3 m), and wave and wind speeds of up to 51.5 m/s (169 ft/s).
Main features include the robust X-bracing structure of the jackup legs, the CJ series established X-Y cantilever layout, and the integrated jacking and fixation systems. Compared to competing designs, GustoMSC says, the X-bracing provides the legs with increased structural capability in operational conditions where the fixation system is not engaged, i.e. during relocation.
The X-Y skidding system allows the combined drill floor, substructure, and cantilever to be moved in longitudinal and transversal direction. The cantilever load chart has been enhanced, allowing the full combined load to be used over the full transverse envelope. (CJ54's drilling envelope is 90 x 50 ft, or 27.4 x 15.2 m, with a combined load rating of 1,500 metric tons, or 1,653 tons).
The dimensions of the rig provide space for a 2,000 or 2,500-kips derrick, four standard mud pumps and related equipment. As the cantilever X-Y skidding system is integral to all the CJ series, the deck area totals more than 4,500 sq m (48,438 sq ft)
Additionally there is a "wrap-around-the-forward-leg" accommodation block for 150 crew members.
03/19/2015