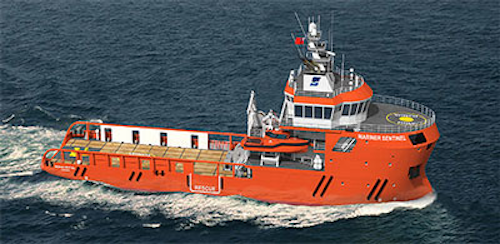 Offshore staff
ABERDEEN, UK– Statoil (U.K.) Ltd. has contracted Sentinel Marine Ltd. to provide a new multi-role emergency response and rescue vessel (ERRV) to support operations on the Mariner field on the UK continental shelf (UKCS).
The 65-m (213-ft) ship, to be namedMariner Sentinel, will be custom built for Statoil and provide emergency cover, oil spill response preparedness, and tanker assist capabilities for the Mariner field.
Mariner Sentinel is expected to be delivered in early 2017. From the summer of 2016 and until the new vessel is ready for operation, Sentinel Marine will provide another ERRV for emergency cover on Mariner.
The ERRV contract has a fixed duration of five years, commencing in July 2016, and also includes five one-year extension options.
Mariner, located about 150 km (93 mi) east of the Shetland Isles, is currently under development, with production start-up planned for 2017. Hook-up and commissioning is expected to start in 2016. 
Statoil is the operator of the Mariner field with 65.11% equity. Co-venturers are JX Nippon Exploration and Production (U.K.) Ltd. (28.89%) and Dyas Mariner Ltd. (6%).
03/09/2015