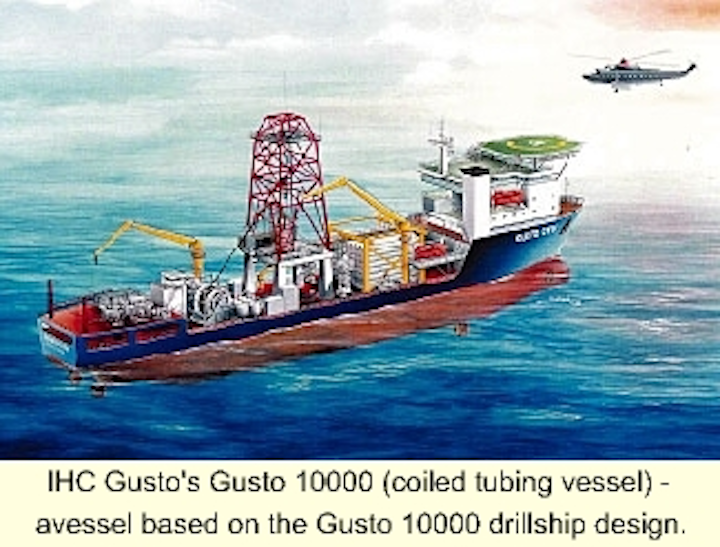 Development of marginal shallow water reserves and large deepwater reserves has been made economically feasible by the technology of subsea completions. To avoid the high cost when using conventional drilling units for completion and maintenance of these wells, IHC Gusto Engineering designed a specialized vessel using coiled tubing (CT) drilling technology to offer a cost effective solution for subsea wells.
Design of the new vessel was based on the successful drillship concept, Gusto 10000, which was used for the Pride Africa and Pride Angola drillships operating off Angola. Two other units are presently under construction.
The new concept that embraces future drilling operations and maintenance of subsea wells is the Gusto Coiled Tubing Vessel (CTV) which can perform drilling and well intervention operation in water depths up to 7,500 ft.
Vessel capabilities
The Gusto CTV design is capable of well intervention operations in a 10-year-return-period storm and can stay on location in a 50-year-return-period storm. The vessel features a large 1,700-sq-meter open deck space. A 7,700-ton deadweight capacity will allow the unit to be able to work long periods of time at remote locations.
The vessel's hull measures 127.4 meters in length, with a breadth of 24 meters, a depth of 11.25 meters, and a 7.6-meter design draft. These dimensions are designed to provide a high payload capacity to optimize field logistics and to have superior motion behavior, minimizing downtime. The vessel has been specially designed to work offshore West Africa, Gulf of Mexico, and Brazil.
Additionally, the hull size provides low costs due to reduced steel construction and delivery time. Costs presently are less than $55 million, exclusive of intervention equipment. The delivery time is less than 16 months.
The equipment is sized to obtain maximum performance out of the vessel, while reducing costs of, for example, the dynamic positioning (DP) equipment and power generating plant, which are main contributors to the overall cost of the unit. Model testing, simulations and comparisons with numerous operational Gusto drillships have verified these design aspects.
Equipment features
The vessel is designed for dual redundant and even triple redundant dynamic positioning operations (compatible with Class II / III notation). The economics are taken into account, resulting in two 50% engine rooms, each with their own cooling water, fuel oil, and auxiliary systems. Two separate pump rooms and auxiliary engine rooms are located next to the engine rooms. Power is generated by four 4,860 kW diesel generator sets - two per engine room.
Redundancy is also provided in the cable routing. As a result, the vessel will still be able to operate with one engine room out of order in a 10-year-return-period storm, if it is allowed to select optimum heading.
The intervention systems also feature redundancy by having two intervention switchboards, one on starboard and one on port, and located next to the moonpool in order to minimize cabling length. A power management system is installed to ensure that sufficient power is available during all operations and possible failures.
Drive systems
The vessel is further equipped with four retrievable azimuthing thrusters and two tunnel thrusters. The two aft thrusters deliver sufficient propulsion power for a service speed of 13-15 knots. All thrusters, protruding below the base line of the vessel are retrievable, in order to maneuver in shallow waters, for ease in drydocking, and to be able to sail smoothly at 13 knots from one location to another using a minimum amount of fuel.
All thrusters can be inspected and maintained inside the hull of the vessel as the entire units can be raised above the highest waterline by a Gusto patented dedicated retrieving mechanism. These thrusters can be retrieved all the way through the main deck and handled as necessary, this will allow operations to continue and avoid costly drydocking.
The vessel is designed to accommodate a single derrick suitable for dual handling operations. Double pipe or single riser stands can be made up in the powered mousehole, independent of intervention operations and placed in the setback prior to any intervention operations.
As a result, preparation time for drillpipe, risers, or casing is reduced by 60%. The derrick and drillfloor are equipped with state of the art equipment using automation and minimum manual handling. In addition, the BOP can be handled in one piece and serviced and tested on the main deck and cellar deck.
For coiled tubing drilling, operations can be performed using the aft deck for storage of the work reel and drilling reel. The injector head can be placed on the drillfloor.
In terms of riser, the vessel has an open riser area designed to store 10,000 ft of 75-ft-long 11-in. ID risers, or 7,500 ft of 75-ft-long 16-in. riser.
Further increase can be incorporated in the vessel design on the aft deck if necessary. The advantage of the open riser storage is that it allows fast and safe handling of the risers. A dedicated riser handling system is installed. In case of failure of the riser handling system, the forward deck crane ensures redundancy.
Additional features
The Gusto CTV offers a large deck area on the aftship for intervention equipment. Provision of a poop deck for well testing increases this area. Hatches are provided throughout the main deck to allow lifting operations for all compartments where this is required. This also ensures that during construction of the vessel no special arrangements have to be made for equipment with long lead times. The holds forward of the derrick are used for storage of casing and drillpipe in racks.
The drillfloor, mud return, and pipe racks have a separate drain system transporting polluted water to a skimmer tank. The design features two offshore cranes servicing all the areas required. Sufficient space is available for installation of additional cranes if required.
The Gusto CTV will be suitable for any well workover activity. Special equipment such as coil tubing, wireline tools, or other equipment, can be provided on the vessel, as there is ample space to accommodate such equipment.
Furthermore, the vessel will be able to produce and test oil. The unit will include abilities to control a subsea wellhead tree, choke and kill operations for the well stream, testing and separation of crude oil, water, and gas on the well stream, an offloading station for shuttle tanker connection, and a storage capacity of 6,000 bbl.
Gusto has design contracts with two major drilling contractors and one offshore contractor for the Gusto CTV. The schedule aims at contract award with Gusto's sister shipyard company, van der Giessen-de Noord, or another shipyard for fabrication at the end of this year.