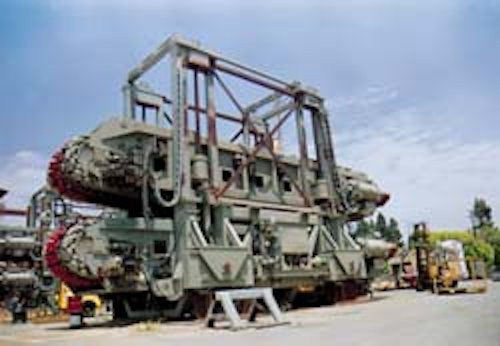 All-weather pipelay, transit speed key to pipelay vessel's success
Large DP ship built to duplicate semisubmersible
lay vessels with added pipe storage, speed, pipelay depth
Speed will be the key to the success and uniqueness of Allseas' giant pipelaying vessel, the Solitaire. The shipshape vessel will incorporate large size, dynamic positioning, continuous motion, and large pipe storage to provide shorter pipelay and transit times.
The vessel is now in the final stages of fabrication at Sembawang yard in Singapore and will be ready for work in November. The vessel was converted from a bulk carrier last year.
The vessel will be capable of laying large diameter pipe at a rate of six km/day or as much as 1,000 km of pipe in one season. The vessel will assemble and install pipe on the seabed in an S-lay fashion, similar to smaller S-lay vessels. However, the size of the vessel and lay ramp configuration will allow the vessel to install pipe in water depths exceeding 10,000 ft.
J-lay systems were designed to install pipe in water depths that could not be possible with conventional S-lay vessels, but the Solitaire is a new generation of S-lay vessel for deep water projects. The Solitaire will have an added advantage over available J-lay spreads. It can lay much larger diameter pipelines in deepwater.
In addition to the transit speed of 15 km/hr characteristic of shipshape vessels, the Solitaire will have a unique pipe handling and assembly system that allows maximum continuous pipelaying speed. The system, which uses six different types of cranes, operates as follows:

40-ft pipe sections up to 60 in. in diameter are loaded aboard the vessel on a full-time basis with double-jointed cranes on each side capable of fast transfer.

An overhead crane/conveyor system transports the pipes into six storage holds with a capacity of 14,625 tons of pipe.

Single section pipes are drawn from storage as needed and transferred to a joining station, where they are beveled, heated, aligned, and moved through three welding stations to become 80-ft joints.

Overhead cranes then lift the 80-ft sections and lower them into the line-up station on the main firing line.

Seven welding stations on the main firing line utilize Allseas' Phoenix automatic welding system.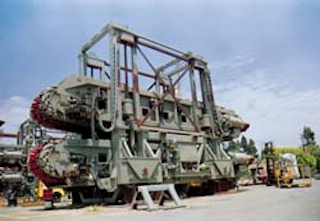 One of the Solitaire's tensioners is shown in testing prior to mounting in the vessel.
DP capability
Another key feature of the Solitaire is its dynamic positioning (DP) ability. The use of dynamic positioning was a necessity for efficient pipelaying for three reasons:
The time-consuming process of stopping pipelay operations while anchors are re-set is eliminated with DP.
The position of anchors in areas crossed by pipelines, platforms, buoys, and cables is difficult, especially if tensioning of the anchor spread in soft soil results in pulling the anchor along the seabed when re-setting.
Abandonment and recovery of a pipeline is much faster with DP, especially if the pipelay vessel has to depart from the site during difficult weather. This is especially the case, where the area is congested.
The completed vessel will be nearly 1,000 ft in length, excluding the stinger, and have a displacement of 70,000 tons. The diesel-electric propulsion and power system will feature eight generators of 6,000 kW each. Eight azimuthing thrusters will be used for propulsion and dynamic positioning. The quarters section will have accommodations for 420 people.
Copyright 1995 Offshore. All Rights Reserved.