NORWAY Production vessel processes, stores, sells oil from well tests
(Left) The Crystal Sea vessel hooked up to semi Treasure Prospect for production testing on Statfjord North. (Right) For the test programme on Statfjord North, the hose hook-up skid was pre-installed on semi Treasure Prospect. The Crystal Sea
Apr 1st, 1995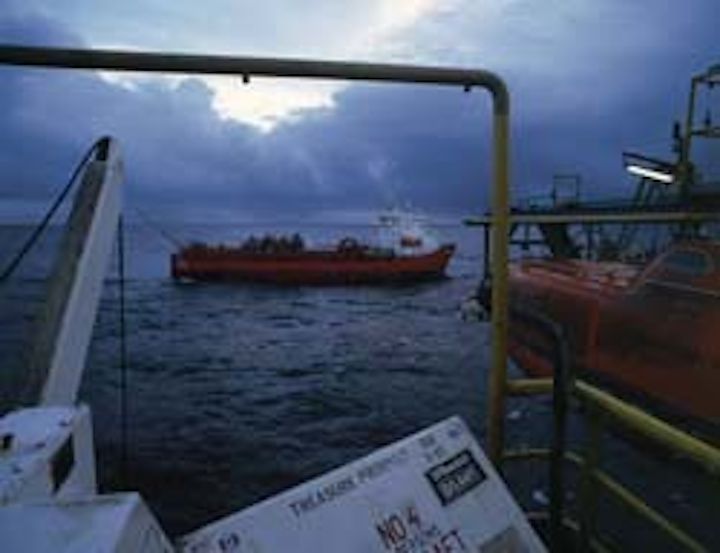 Halliburton, Broevig vessel maximizes test pressures without environmental problems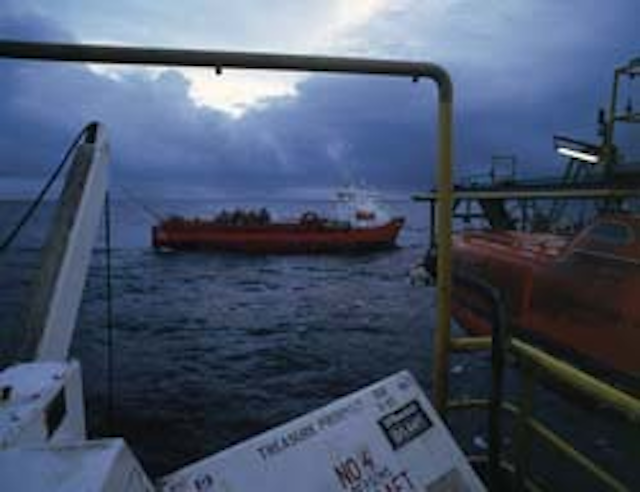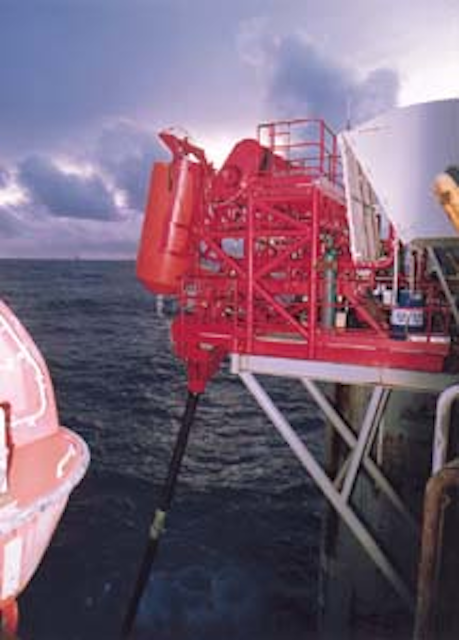 (Left) The Crystal Sea vessel hooked up to semi Treasure Prospect for production testing on Statfjord North.

(Right) For the test programme on Statfjord North, the hose hook-up skid was pre-installed on semi Treasure Prospect.
TheCrystal Sea, the test production vessel brought into service late last year, has successfully completed its first tranche of work for Statoil. In its basic role, the vessel, operated by Green Sea Operations, a joint venture between Halliburton Energy Services and Norwegian shipowner Broevig Offshore, received the wellstream during test production carried out by a drilling rig.
Whereas the rig has to flare off the hydrocarbons to the atmosphere, extravagantly adding to the level of pollution, the Crystal Sea processes and stores them. The proceeds the operator receives from their sale are more than likely to pay for the vessel's services.
The environmental benefits brought about by the vessel have attracted interest from companies operating in areas with strict environmental regulations, such as the Dutch sector of the North Sea and the Italian Adriatic, according to Steinar Bringsli, Halliburton Energy Services' marketing manager in Norway.
The newbuild 10,000-dwt vessel can process up to 25,000 b/d of crude and store up to 50,000 bbl. It can clean up to 10,000 b/d of produced water down to an impurity level of less than 15 ppm.
TheCrystal Sea first went to work at the end of 1994, when it spent 10 days assisting in the test production of two wells on Statoil's Statfjord North satellite field.
The vessel stood some 200 meters off the drilling semisubmersible,Treasure Prospect, to which it was hooked up by a six-in hose. Hook-up took only two hours. The hook-up skid had been installed on the rig when it was last in port.
"I've dealt with many start-ups of process equipment, and always there's been a dreadful hitch," commented Kjell Sandnes, Statoil's manager of production operations, "but in this case everything went fine."
Thanks toCrystal Sea, production could be tested at rates up to 31,000 b/d, well above the design limit of 25,000 b/d. Had the testing been carried out by the rig alone, the heat radiation from the flaring would have limited the test to around 15,000 b/d.
"You can start up quicker and find out the upper limit on production sooner," said Sandnes. "I feel it was a very impressive performance."
The vessel was able to continue operations in demanding weather conditions, including 6-7 meter wave heights and wind speeds of over 50 knots. The choice of vertical separators and hydrocyclones in the process package is intended to give it an all-year-round operational capability. It maintains position through use of dynamic positioning.
Crystal Sea carries a 12-man marine crew and requires eight process personnel for operating in hookup with a rig - six on the vessel and two on the rig to operate the hook-up skid.
Statoil will useCrystal Sea for testing the remaining wells to be drilled on both Statfjord North and Statfjord East. It is also considering using it to collect oil on fixed platforms during well clean-up operations, Sandnes said.
The operators are keen to stressCrystal Sea's versatility. By means of a flexible riser deployed through its moonpool, it is able to connect up directly to a well and carry out a test program of its own accord.
From there, it is only a small step to carrying out an extended well test or the early production phase of a field. Processed oil is offloaded over the stern.
A complete package could be offered by bringing in others of the Halliburton group such as Brown & Root and Rockwater. Partner operator Broevig could take care of shuttle tanker arrangements.
Another possibility is to put a derrick on the vessel and carry out well intervention using coiled tubing. This would require the use of a rigid riser and Halliburton is now studying possible heave-compensation mechanisms to use with it.
Copyright 1995 Offshore. All Rights Reserved.