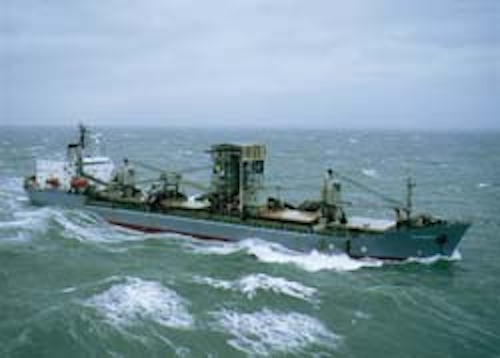 Sandpiper can now dump rock accurately in harsher weather, thanks to its new spider control and monitoring package.
Papendrecht-based dredging and marine contractor Royal Boskalis Westminster has formed a joint venture in Malaysia called Lamnalco Malaysia. The new venture will undertake a range of offshore support activities, including oil terminal and supply base management services.
As part of this multi-million dollar investment, two offshore support vessels have been acquired, joining an already comprehensive fleet of tugs, work boats and specialised craft operated by the venture.
Typical of the equipment that can be made available for operations in Malaysia and nearby countries is the dynamically positioned, multi-purpose maintenance and accommodation vessel M.V.Taurus. The 3,565kW vessel has recently completed a series of assignments in Nigeria for Chevron and Mobil, involving inspection and maintenance of offshore installations, platform overhauls and most recently, the installation of 13 helideck extensions.
Boskalis' Stavanger-based subsidiary Westminster Offshore operates the world's largest fall-pipe vessel, the 26,000 tonne Sandpiper. Recently, it took delivery of a new `spider' monitoring and control package to improve accuracy of rockdumping. The vessel's previous spider functioned purely as a monitoring package.
The spider is located at the end of Sandpiper's fall-pipe which is lowered into the water through the moonpool, then delivering straight to the seabed. The spider's thrusters give a pulling force of over 1 tonne and provide accurate control of the fall-pipe as the vessel tracks along the subsea pipeline or structure. In particular, there is greater control over the fall-pipe's wiggle which is caused by forward movement of the ship/fall-pipe during rockdumping.
Normally where the rockdumping profile is small (for instance, covering small diameter, flexible flowlines which tend to bend and twist), rock dumped off target can reach as much as 30%. But the accuracy of the new spider reduces the amount of material off target, thereby saving wasted material as well as time taken for re-loading.
The pulling force of the new spider's thrusters also allow the vessel to operate in worse weather than previously. It enables the fall-pipe's position to be corrected should Sandpiper drift off track in a swell. The vessel can now dump rock accurately in 8-metre waves compared to 5-6-metre swell limits with the old spider.
Recent projects performed using the new system include the covering of flowline tails in 370 metres water depth in Conoco's Heidrun Field for main contractor Northern Ocean Services. Detailed design, engineering and construction of the spider was performed by Dutch company Seatec in close association with Westminster Offshore and Boskalis. Schiedam-based Marine Structure Consultants provided conceptual design.
Copyright 1995 Offshore. All Rights Reserved.