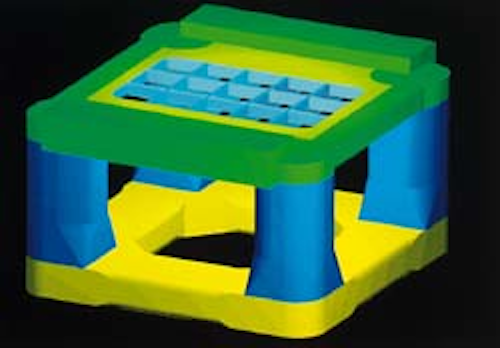 Nick Terdre
Contributing Editor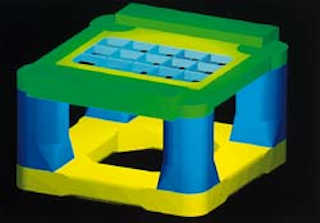 GVA's Bare Barge concept ois based on a frame pontoon for the hull and a grillage deck.
As the surge of enthusiasm for production ships continues unabated, GVA Consultants has launched a new turret concept which is already attracting interest from potential clients.
The Gothenburg-based specialist in floating production systems is best known for its work with semisubmersibles - it designed and built the first dedicated production semisub which has now completed 10 years on the Balmoral Field, to operator Sun's satisfaction. Last year the GVA-designed Petrobras XVIII rig was installed in the deepest water yet for this type of facility, on the Marlim Field in Brazil.
While the interest for semisubs remains strong, the novel feature in the market is the growing popularity of monohull concepts - there are some eight committed production ship projects proceeding in the North Sea at present, and several others under consideration.
A key element in designing production ships is the turret, with the bearing system which may be subjected to forces of up to 5,000 tons and above.
Complicated bearing systems are used on many designs to ease the effect of these loads, but GVA in cooperation with a sister company within the Kockums Group has come up with a simple and money-saving solution based on rubber type bearings with sliding surfaces, according to managing director Hugo Heyman.
Full-scale tests were due to be started in late May in the extensive submarine testing facilities at Kockums, the group to which GVA belongs. Kockums is enthusiastic about the concept, which, following its involvement, has been named the Kockums GVA Turret. "Considerable interest has already been shown by an operator, and this could give rise to a project in the short-term," Heyman says.
Cost reductions
Based on its experience designing and building numerous tankers, GVA has other contributions to make in the development of the production ship. "We have a good handle on costing the building and establishing build methods and schedules," says Heyman.
The consultant, which has a slim staff of less than 30, is also alive to the extravagance of much offshore design and construction work, an area in which campaigns such as Norway's Norsok cost-cutting initiative are seeking improvements.
"Going back to the mid-1980s, it took 150 man hours per ton for building a production semi, compared with 25 for a crude oil tanker," Heyman points out. "Based on this experience, our philosophy today is different: we believe in implementing oil company standards where necessary, and marine standards wherever possible. In other words, to build the vessel hull to normal shipbuilding standards."
Another market-driven project which GVA is undertaking is the further development of the Basic Bare Barge concept, which originally emerged in the mid-1980s.
This is a semisubmersible concept in which the topside equipment sits on top of the structure, with the result that the outfitting operation can take place quite separately from the construction of the structure. The design is based on a frame pontoon and grillage deck.
There are three main advantages to this concept: it emphasizes the above mentioned division between marine standards vs oil company standards; the construction schedule may be shortened compared with that for an integrated structure; and topside equipment can easily be removed and replaced, thus facilitating the switch from one oil or gas production mode to another and giving the barge a multipurpose character. "Interest is growing due to this flexibility, particularly in the North Sea and the Gulf of Mexico," says Heyman.
GVA is now working on this concept as a contributor to the DeepStar project for the development of deepwater concepts. It is hopeful that it may also soon be called on to dust off its PROMS concept, a modular method of converting semis into production facilities.
Tender assist
Another interesting concept is the tender-assist drilling vessel, providing drilling facilities for small wellhead platforms, a concept which is attracting increasing interest in the North Sea and the Far East. In GVA's design, the two cranes have been positioned to facilitate the transfer of equipment to the platform. "We reckon we can arrive, hook-up, transfer all the drilling equipment onto the platform and start drilling in less than 24 hours," says Heyman.
The company lost out earlier this year when Norsk Hydro chose Aker's P45 production semisub design for its Njord project over the GVA 5000E design which was the base case for the development. But it appears that the motives for this choice were other than technical and cost. It is now looking forward to bidding on Hydro's Visund development, which will also use a semisub floater.
Presently, GVA's involvements are primarily concentrated in the Gulf of Mexico, the North Sea and the Far East, but the company would very much like to get new opportunities working for Petrobras in Brazil.
GVA made a good profit in 1994 and spends some 15% of its turnover on R & D. Recently it designed a 15,000-ton capacity floating drydock commercial operation in Dubai, and nearing completion in Hong Kong is a 40,000-ton floating drydock built at the Singapore shipyard FELS.
For more information contact: Hugo Heymann, GVA Consultants: telephone 46 31 10 67 60 or fax 46 31 13 56 92.
Copyright 1995 Offshore. All Rights Reserved.