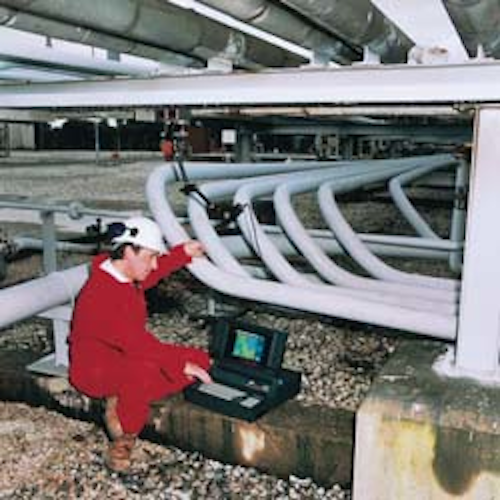 AEA Sonomatic Micromap ultrasonic and imaging system at work
Risley-based AEA Sonomatic Field Services is forming a collaborative venture in Jakarta with Pt. Andhikatama Jaroindo Sakti. Essentially, this will involve transfer of AEA Sonomatic's condition assessment technology to AJS' extensive operations in Indonesia for upstream and downstream projects.
The two have already worked together in Indonesia, with recent ventures including a corrosion mapping survey on an FPSO vessel operated by Marathon Oil. The vessel is a converted tanker which collects oil from two platforms. It performs initial processing onboard, then acts as a storage vessel before the oil is collected by tanker.
Oil is stored in the slop tank - in its guise as a tanker, this tank was used as an oil/water separator. Consequently, it was thought that there might be spirals of corrosion caused by water movement between the compartments of the slop tank.
AEA Sonomatic was asked to establish the existence and extent, if any, of the corrosion. A full corrosion mapping was performed using the company's See-Scan system: this provides a color-quantified graphic display, in C-scan format, superimposed onto a video image of the area under examination. Results were then assessed and analyzed by Marathon.
AEA Sonomatic and AJS have also collaborated on a comprehensive inspection of over 2,000 metres of weld on spherical storage tanks under construction for an ethylene project in West Java. Welds were inspected ultrasonically using the Time of Flight Diffraction technique, allowing scanning rates of 60-100 metres/day. Results were processed using AEA Sonomatic's Microplus equipment which gave real-time print-outs of the scanned welds.
A version of the Microplus system in corrosion mapping mode will be featured at the Jakarta Oil & Gas Exhibition, along with the Micromap system which combines precision corrosion mapping with patented video mapping.
Copyright 1995 Offshore. All Rights Reserved.