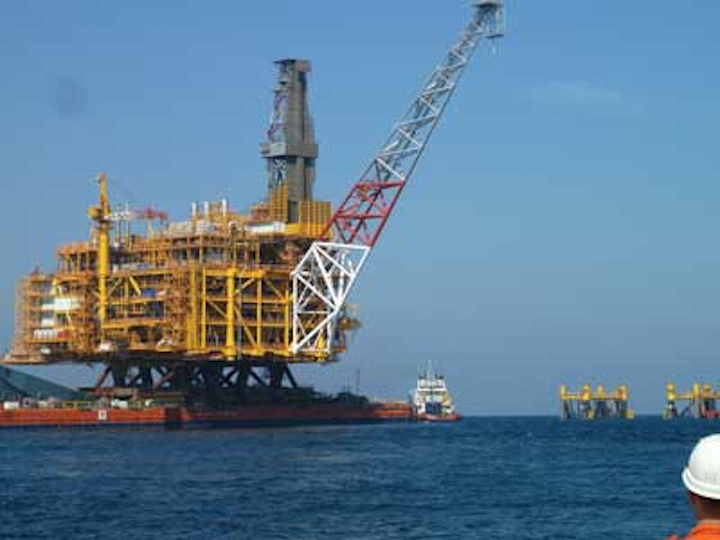 Russell McCulley • Houston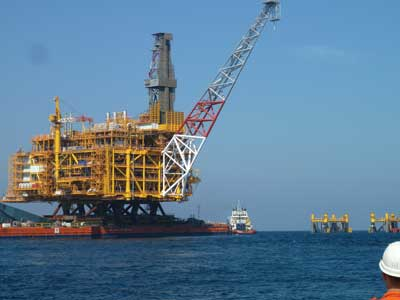 The floatover topsides installation at the SHWE gas development offshore Myanmar. (Photo courtesy Dockwise)
Dockwise Ltd. has installed the production platform at the SHWE gas development in Myanmar's A-1 offshore block, setting a company record for the heaviest float-over installation. The 30,000-ton topsides were launched from the HYSY229 barge, which arrived at the Bay of Bengal location Dec. 8, 2012, from Hyundai Heavy Industries' fabrication yard in Ulsan, Korea. Installation of the platform, which accommodates 200 people along with drilling and production equipment, surpassed Dockwise's previous installation record of 21,000 tons. The SHWE project in blocks A-1 and A-2 is operated by a consortium led by Daewoo International. The project, 70 km (43.5 mi) offshore Myanmar, will produce and process up to 500 MMcf/d of gas to China.
Island taps Ulstein for intervention vessel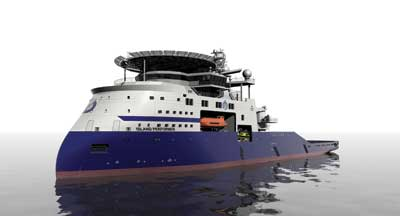 Island Offshore and partner Edison Chouest Offshore have ordered an MSV based on Ulstein's SX121 design. (Image courtesy Ulstein)
Ulstein will deliver a newbuild multi-purpose offshore vessel to Island Ventures II, a partnership between Island Offshore and Edison Chouest Offshore, under the terms of a contract that includes an option for an additional vessel. Delivery is scheduled for May 2014.
Based on the ULSTEIN SX121 design, the vessel will be equipped for well intervention, IRM, and SURF operations. The DP-3 vessel will measure 130 m (427 ft) in length by 25 m (82 ft) in width and will be capable of operating in water depths of 3000 m (9,843 ft). Equipment includes a vertical lay system, a 250-ton heave compensated crane, and room below deck for a rotating carousel with a capacity to load 2,500 tons. The vessel will have two ROVs on board and accommodations for 130 crew members.
McDermott on the move
McDermott International has submitted an order with Keppel Singmarine for construction of a high-spec, DP combination S-lay vessel with a 2,000-ton crane. Tentatively namedDerrick Lay Vessel 2000, the ship will support pipelay operations at water depths of up to 10,000 ft (3,048 m) and accommodate up to 400 people. Delivery is expected in 2015 from Keppel Singmarine's yard in Singapore.
McDermott also picked up a $230-million job with Pemex for delivery of the PB-Litoral-A production platform to the Litoral Tabasco Tsimin-Xux fields in the Bay of Campeche offshore Mexico. McDermott will conduct FEED, EPCI, and commissioning of the eight-legged, 1,800-m ton (1,984-ton) jacket and 4,500-m ton (4,960-ton) topsides, along with tripods, bridges and piles. Engineering will take place in McDermott's offices in Houston and Chennai, India. McDermott's fabrication yard in Altamira, Mexico, will have around 550 workers on the project at the peak of construction, with installation scheduled to be completed in 2Q 2015 using theIntermac 600 floatover barge and the Derrick Barge 50.
Frigstad orders semis on spec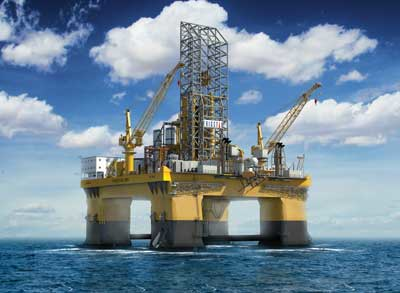 Frigstad Deepwater signed contracts worth $1.3 billion with CIMC Raffles for two semisubs of the Frigstad D90 design. (Image courtesy Frigstad)
Frigstad Deepwater has placed an order with China's CIMC Raffles for two ultra-deepwater semisubmersibles based on the Frigstad D90 design. The turnkey construction contracts are worth $1.3 billion and include options for four more units. The rigs, to be delivered in 4Q 2015 and 2Q 2016, will be capable of operation in 12,000 ft (3,658 m) of water and able to drill to a total depth of 50,000 ft (15,240 m). Frigstad Offshore will manage operation of the DP-3 units.
The first Frigstad D90 was Saipem'sScarabeo 9, which wrapped up an unsuccessful drilling campaign offshore Cuba last year. The rig has since been mobilized to West Africa.
Subsea 7 orders North Sea DSV
Wärtsilä has been enlisted to design a new dive support vessel for Subsea 7, to be built at Hyundai Heavy Industries' yard in Korea. Wärtsilä created the new VS 4725 DSV design specifically for the project, slated for delivery in 2015. The DSV will measure 123 m (404 ft) in length, 24 m (79 ft) in width, and will be used for year-round diving operations in the North Sea.
Keppel builds Mexico jackup backlog
Keppel FELS landed a $420-million contract with Mexico's Pemex for construction of two high-spec KFELS B class jackups. The rigs, scheduled for delivery in 1Q 2015, will be able to operate in water depths up to 400 ft (122 m) and drill to depths of 30,000 ft (9,144 m). Construction will take place at Keppel Offshore & Marine's Keppel AmFELS yard in Brownsville, Texas, where two other rigs bound for Mexico are being built: thePapaloapan jackup, scheduled for delivery to Perforadora Central in 1Q 2013, and the Coatzacoalcos jackup rig, slated for delivery in 1Q 2014.