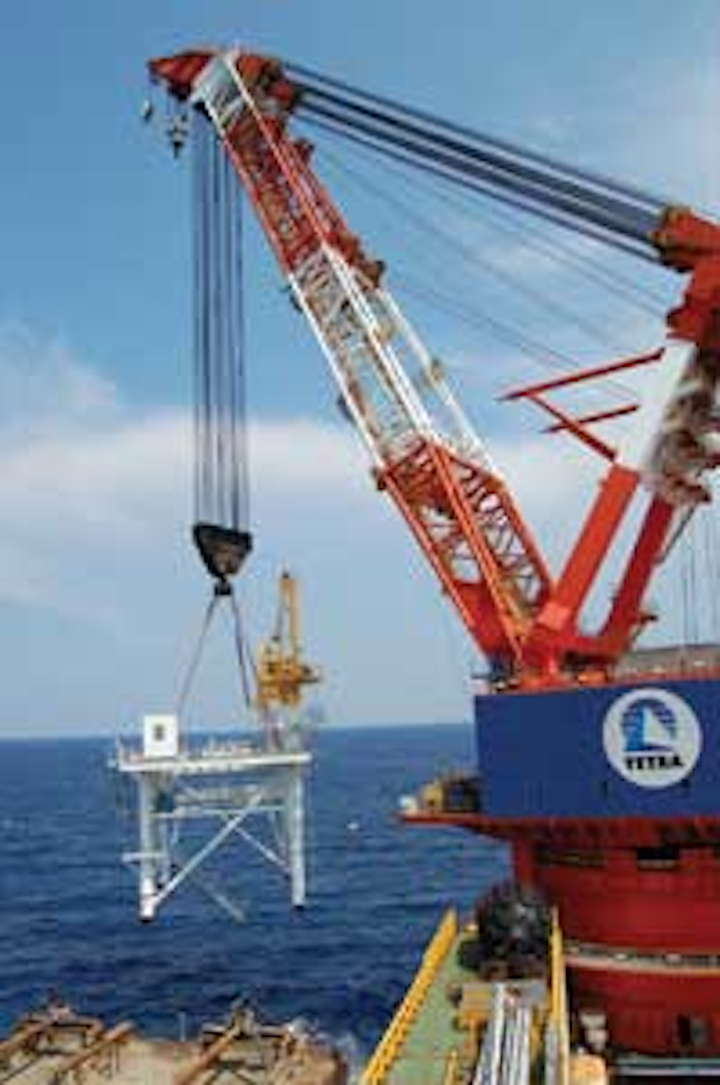 Contractors and transporters bringing new vessels online with greater capacities
Bruce Beaubouef
Managing Editor
Vessel owners and heavy lift contractors have been building new vessels and incorporating new technologies in response to a greater level of offshore heavy lift demands and activities.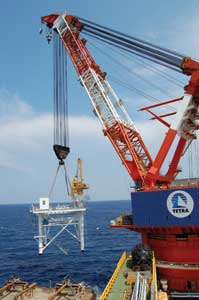 Tetra Technologies' newest vessel,Tetra Hedron, is shown here operating in the US Gulf of Mexico.
Over the past year, the vendors, contractors, and supliers have commissioned the largest semisubmersible heavy-lift vessel ever built, expected to redefine the limits of heavy marine transport; developed a package that provides motion monitoring, response prediction, and heavy-weather decision support during heavy cargo transport; and created a drive and control system that can lift offshore platforms in one piece.
Some of the most notable recent technology developments and activities in the field are described below.
Recent activity
Heavy lift technologies are being deployed on a number of fronts in a number of offshore oil and gas regions, throughout the world. Late last year, work got under way on the WZ6-12 and WZ12-8 West oil field development areas in the Beibu Gulf offshore China. CNOOC-Zhanjiang is the operator. COOEC's heavy-lift vesselLanjing lifted the project's first module support frame onto the new processing, utility and quarters (PUQB) platform jacket, adjacent to the CNOOC WZ12-1 platforms. The PUQB is jointly shared with other CNOOC-Zhanjiang owned and operated areas. Hook-up and commissioning was expected to start upon completion of the final lift in 1Q 2013.
Elsewhere, theDockwiseVanguard heavy-lift vessel recently began a voyage from South Korea to Texas, carrying the semisubmersible hull for Chevron's Jack & St. Malo project in the deepwater Gulf of Mexico. The vessel began its journey at the Samsung Heavy Industries yard in Geoje, South Korea, bound for the Kiewit yard in South Texas. At 56,000 metric tons (61,730 tons), the hull is the world's largest to date, said marine contractor Dockwise. The successful float-on operation was the first for the new vessel. The hull is scheduled to arrive at the Kiewit yard mid-April.
TheVanguard has no forecastle and therefore can carry longer cargo. The deckhouse is positioned mostly outside the hull, giving the vessel the capacity to carry 70-m (230-ft) wide cargo. The vessel is about 80 m (264 ft) in total width, and is 275 m (902 ft) in length. The Vanguard is the first such semisubmersible heavy-lift vessel built under DNV's new class rules for this type of ship. The Vanguard has also been equipped with the latest monitoring systems. Late last year, it was announced that the Netherlands-based Amarcon had won an order to supply an OCTOPUS-Onboard system for the vessel. The package will provide motion monitoring, response prediction, and heavy-weather decision support during heavy cargo transport operations. The vessel will also be equipped with a three-sensor motion measurement set-up. This will allow various critical locations of the vessel, i.e. the cargo, to be measured and displayed on the ship's bridge.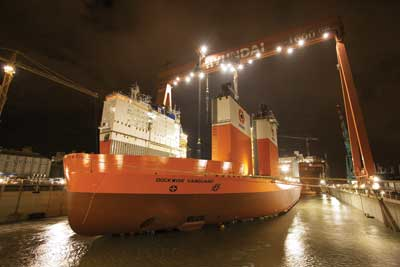 Dockwise Vanguard is equipped with the latest monitoring systems.
On another front, HGO InfraSea Solutions has christened the heavy-lift jackup vesselInnovation. The vessel has a 1,500-ton crane and an 8,000-ton load capacity, and can operate in water depths to 85 m (279 ft). It was built at the CRIST shipyard in Poland/Gdynia. HGO is a joint venture of HOCHTIEF Solutions and GeoSea of the DEME group. During the ceremony held last fall, Alaibn Bernard, CEO of DEME, said the group soon would add to its fleet a crane vessel with a lifting capacity of 4,000 tons.
Fleet update
A recent survey undertaken byOffshore (November 2012) showed that heavy lift contractors had added several new vessels over the past two years. Among the companies indicating new vessels are CIMC Raffles, CNOOC, Saipem, Sea Trucks Group, Shanghai Salvage, Tetra Technologies, and Versabar.
The semisubmersible hull for Chevron's Jack/St. Malo project begins its voyage from Geoje, South Korea, bound for the Kiewit yard in South Texas, on theDockwise Vanguard heavy transport vessel. (Courtesy Dockwise)
As a result of its purchase of Global Industries in 2011, Technip acquired 14 vessels from Global Industries, including seven heavy-lift vessels. However, only three - theHercules, Global 1200, and Global 1201 - meet the traditional criteria for heavy lift - a crane capacity of at least 100 tons.
Tetra Technologies' newest vessel is theTetra Hedron. This vessel, plus the Tetra DB-1 and Tetra Arapaho, operate in the US Gulf of Mexico. The new vessel is 394 ft x 118 ft x 31.5 ft compared with the Tetra DB-1 and Arapaho, which have dimensions of 350 ft x 100 ft x 25 ft. The Tetra Hedron has quarters capacity of 300 compared with 113 for the Tetra DB-1 and 100 for the Tetra Arapaho. Lifting capacity is the largest of the company's three vessels as well. The vessel features a whip hook capacity of 55 tons at 256 ft, auxiliary hook capacity of 385 tons at 246 ft, static main revolving capacity of 1,323 tons at 105 ft, and over stern lifting capacity of 1,763 tons at 105 ft.
Versabar'sVB 10000 is listed as a heavy-lift catamaran vessel with dimensions of 290 ft x 314 ft. The unit is a float-over type heavy-lift vessel. It does not have its own crew accommodations due to its design. The unit can operate in water depths of more than 10,000 ft. Its auxiliary hook capacity is provided by four 500 ton blocks with a static main revolving lifting capacity of 7,500 tons. Station keeping is provided by a DP-3 system and an eight-point mooring system for shallower waters.
Saipem's new heavy-lift vessel is theField Development Ship 2, a dynamically positioned multi-purpose construction vessel that measures 600 ft x 106 ft x 48 ft. The first Field Development Ship measures 536 ft x 98 ft x 41 ft. The new vessel can operate in up to 10,000 ft of water, the same water depth capability as the older unit. Accommodations also are significantly larger at 325 for the new vessel compared with 213 for the older unit.
Sea Trucks Group's two new vessels are theJascon 28, a dynamically positioned hook up barge, and the Jascon 55, a dynamically positioned construction support vessel. The Jascon 28 is 364 ft x 100 ft x 22 ft, while the Jascon 55 is 256 ft x 66 ft x 21 ft. Crew quarters capacity of the Jascon 28 is 462 persons, while the Jascon 55 can accommodate 172. Each can operate in water depths of more than 10,000 ft.
CIMC Raffles'SSCV#2 is a heavy-lift/accommodation barge with quarters for 618 people. The 451-ft x 265-ft x 128-ft vessel features a static main revolving lifting capacity of 3,600 tons.
Shanghai Salvage also has two new vessels, theDa Li Hao and Wei Li crane barges. The Da Li Hao is 328 ft x 125 ft x 30 ft, while the Wei Li is 462 ft x 131 ft x 42 ft. Quarters capacity for the Da Li Hao is 236 and 240 for the Wei Li vessel.
CNOOC brings two vessels to the worldwide heavy-lift fleet, the Lan Jing 7500 derrick barge and the Lan Jing 3800 derrick/pipelay vessel. The 787-ft x 164-ft x 67-ft Lan Jing 7500 has accommodations for 300 persons. The 517-ft x 157.5-ft x 41-ft Lan Jing 3800 can accommodate up to 278 workers.
Elsewhere, Damen Shipyards Group, with cooperation from Ha-Ce Engineering Pte Ltd., has developed a new, smaller heavy-transport vessel designed to carry modules and cargo on an open deck over medium-to-long distances.
The Damen Offshore Carrier design has a flat, unobstructed 2,300-sq m (24,757-sq ft) deck with a capacity of 20 metric ton/sq m (4,100 lb/sq ft) and is 27.5 m (90 ft) wide. It will be equipped with DP-2 capability and DP-3 can be implemented. Damen says the first such vessel can be delivered in 2014.
Allseas is making steady progress on the construction of thePieter Schelte, which will be the world's largest mobile offshore installation lifting vessel. It will be 382 m in length, 117 m in width, with dynamic positioning for platform installation/decommissioning and pipelay activities. In June 2010, Allseas awarded the contract for building Pieter Schelte to the Korea's Daewoo Shipbuilding and Marine Engineering. Long-lead items were ordered in 2007, and the detail design of the hull was completed in May 2010. Equipment for the lift systems and pipelay system were ordered in 2011, continuing into 2012.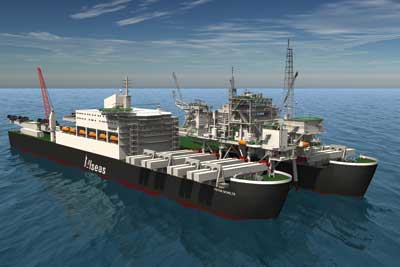 When completed in 2014, thePieter Schelte will completely lift platforms from their steel jackets and transport them onto land.
As engineering partner to Allseas, Bosch Rexroth developed and engineered a drive and control system that it says can lift offshore platforms in one piece. This topsides lifting system, which will be deployed on thePieter Schelte, is expected to reduce cost and increase safety in decommissioning platforms.
When built,Pieter Schelte will have a topsides lift capacity of 48,000 tons and a jacket lift capacity of 25,000 tons. Her pipelay tension capacity will be 2,000 tons, doubling the capacity of Allseas' Solitaire and thereby surpassing her as the world's largest pipelay vessel.
Delivery of the topsides lift and pipelay vessel is expected in the second half of 2014, ready for offshore operations at the end of 2014. The jacket lift system will follow one year later.
More Offshore Issue Articles
Offshore Articles Archives
View Oil and Gas Articles on PennEnergy.com