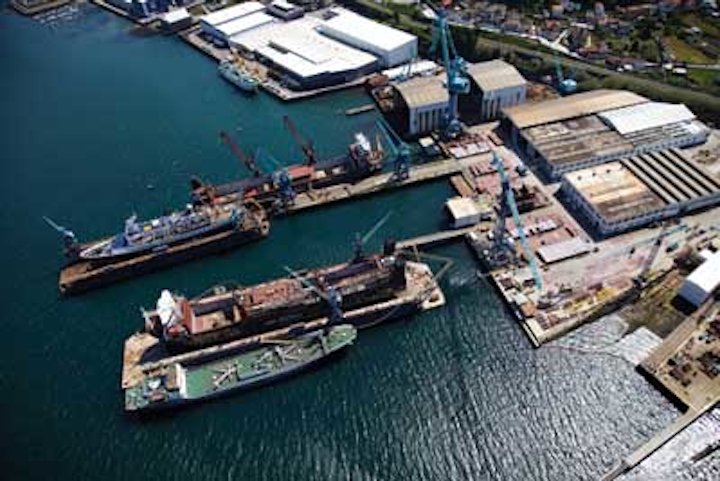 Russell McCulley
Senior Technical Editor
For much of this year, the Kiewit Offshore Services fabrication yard in Ingleside, Texas, has resembled a small city in itself, with thousands of engineers and craftspeople onsite preparing structures for deployment in the deepwater Gulf of Mexico.
Early this summer, four of those projects flanked the shore of Corpus Christi Bay, forming an industrial skyline visible from miles away: Shell'sOlympus TLP, bound for the Mars field; Anadarko's Lucius spar; and a pair of semisubmersibles headed for the Chevron-operated Jack/St. Malo and Big Foot developments. All four hulls arrived at the yard this year from shipyards overseas: Olympus and Jack/St. Malo from Samsung Heavy Industries in Korea; Bigfoot from Korea's Daewoo Shipbuilding and Marine Engineering; and Lucius from Technip's facility in Pori, Finland.
While global shipyard output took a big hit with the recent financial crisis, the industry appears to be regaining momentum, largely driven by the oil and gas business. A recent analysis by the Denmark-based shipping association BIMCO described a "soft landing" for the shipyard industry after a wave of order cancellations, delays, and postponements put the brakes on output. Comparing data from December 2011 and March 2013, BIMCO noted a "transition from recent years' record high shipyard output to a more sustainable level of output…representing a remarkable turn for the shipyard industry."
While work on merchant vessels like dry bulk, tanker, and container ships continues to languish, the report said, shipyards are shifting focus to offshore support vessels and other oilfield-related orders, including FPSOs, drillships, and platform supply vessels.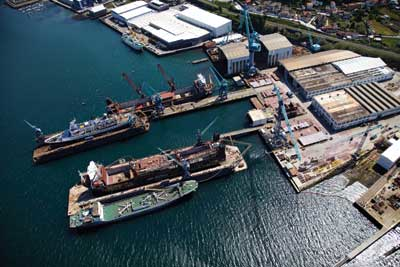 The Metalships yard in Vigo, Spain, recently delivered theDeep Orient OSV to Technip and is working on a newbuild pipelay vessel for McDermott, similar to the North Ocean 105, delivered to McDermott last year. The North Ocean 108 is scheduled for delivery 3Q 2014. (Photo courtesy Metalships)
"Moreover, there is also a clear trend in sizing up and focus on larger ship types for the new orders placed in the offshore segment," BIMCO said, noting that the amount of shipyard capacity dedicated to FPSOs and FSOs, measured in compensated gross tonnage (CGT), rose 83% during the period under examination, and was up 75% for drillships. "The combined force of FPSO/FSO and drilling ships is representing 72% of the offshore orderbook today, up from 51% in December 2011," the report said. "In addition to this the offshore orderbook also holds the longest lead into the future with a bunch of Brazilian drilling ships due for delivery in the five years leading up to 2021."
Overcapacity will continue to be an issue for a number of years, but orders from the offshore oil industry will provide a cushion as yards adjust to a lower but steadier level of demand, said BIMCO chief shipping analyst, Peter Sand. "Looking a bit ahead, the shipyard industry will probably settle in at a solid level of demand in the 30+ million CGT region with positive growth rates going forward," he commented. "As the world fleet as such is projected to be almost 20% larger seven years on from now, the need for fleet renewal, fleet repair, demolition, or the like will be strong, keeping the shipyards busy once again."
Despite the threat of overcapacity, shipyards and fabrication yards continue to expand to meet offshore oil and gas industry demand. Triyards will launch a new 400,000-sq ft (37,161-sq m) shipyard in Singapore by the end of 2013, with a focus on high-spec jackups. A subsidiary of Ezra Holdings, which also controls vessel operator EMAS AMC, Triyards has two shipbuilding and fabrication facilities in Vietnam and a fabrication yard in Houston.
Wison Offshore & Marine, which operates a 640,000 sq m (6.89 million sq ft) shipyard in Nantong, China, is building a second yard in the Zhoushan area. The new yard, scheduled to open by the end of 2013, will be roughly twice as big as the Nantong facility.
"Momentum has picked up again, and now the oil and gas market is hot," says Tor-Ivar Guttulsrod, vice president for LNG sales at Wison O&M.
The company last year delivered theCX-15, the first buoyant tower drilling and production platform, to BPZ Energy. The unit was installed at the Corvina field offshore Peru. Wison also announced a contract with Exmar for a floating LNG liquefaction, regasification, and storage system to be used by Pacific Rubiales Energy Corp. offshore Colombia. Last April, Wison and Black & Veatch announced that the companies, which are working together on the Pacific Rubiales project, would jointly pursue similar barge-based LNG projects.
Wison Offshore & Marine is building a second fabrication facility in China near Zhoushan, scheduled to open in late 2013. The company's Nantong yard began operations in 2006. (Photo courtesy Wison O&M)
"We're looking at some FPSO projects and more buoyant tower projects, modular construction, and LNG," Guttulsrod says. "I think there's going to be a lot of work for us, growing these small- to medium-scale floating LNG projects."
Wison completed the BPZ Energy project in a little under a year by using subcontractors to fabricate the buoyant tower's cylinders while other work was under way at the Nantong yard.
"What we did on that project was pretty typical of what takes place in the industry today," says Wison O&M construction manager, Beau Toll. Once the investment decision has been made for high-capital projects, operators look for short development times to hasten the return on investment, he says. "By using multiple vendors to make subcomponents, we found a way to speed the process up. That's a lot of what's happening in the industry today: where capacities are too great, they're starting to get subcontractors to produce smaller pieces that they then take in and assemble as modules."
Coordinating various engineering and construction teams can be a challenge, Toll says, but the modular approach has accelerated completion times and helped builders successfully manage several large projects at once. Automation has also played a major role in shipbuilding and fabrication efficiency, as well as improved crane capacity and more specialization among skilled craftspeople.
"You're always striving to hit the Holy Grail: to produce projects on time, produce them safely, with no one getting hurt, and produce them so that good quality comes out of it, at a fair cost," he says. "It takes a lot of time to be able to plan multiple, simultaneous jobs in a fabrication facility, and keep them all flowing while making best use of your assets and your space. It's a full-time challenge."