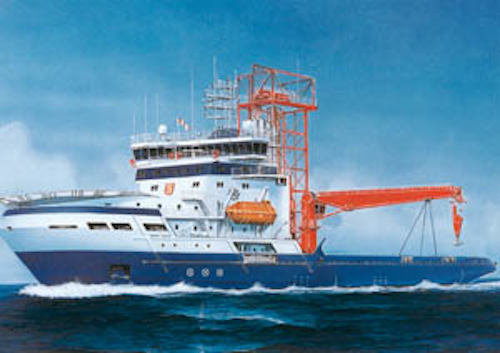 Artist's impression of the new icebreaker/well intervention vessel.
A third multipurpose icebreaker/offshore construction vessel will soon be working in the North Sea. Finland's National Board of Navigation has commissioned the newbuild from Finnyards in Rauma, where fabrication is in progress.
Like its forerunners the Fennica and Nordica (also built at Finnyards), the new vessel will be under long-term charter to DSND Oceantech for North Sea work during the warmer months, switching to icebreaking duties in the Baltic in winter.
Its main offshore role will be in well intervention. DSND is trying to negotiate a three to five-year frame agreement with Norsk Hydro, Saga and Statoil for shared duty on new fields such as Åsgard. Discussions have also been opened with UK sector operators.
Unlike more established competitors in this market, the new vessel is designed to offer coiled tubing-deployed intervention from the outset. For this reason, DSND persuaded the Navigation Board to add a moonpool for ROV operations (the Board needed some convincing that the moonpool would not interfere with icebreaking).
DSND is happy with the part-time ownership arrangement. Not having time-slots to fill during the winter allows the contractor to offer more competitive rates during the main North Sea well intervention season.
The new vessel will be shorter and narrower than the Fennica and Nordica: 97 metres long and 24 meters wide compared with 116m and 26m. Deck area is around 1,000 sq m. In offshore mode, deadweight will be 2,850 tons. Otherwise, the basic design principles and hull form are broadly similar to those of the Fennica and Nordica (in which DSND's forerunner, Ugland, had considerable design input).
Draught in open water will be 8.5 meters. The vessel will also be equipped with a 120 ton crane and a Class 3 dynamic positioning system. The diesel-electric propulsion system features two 5MW Azipod stern propeller units, supplied by Kvaerner Masa-Yards, which allow speeds of 15 knots to be attained in open water, and reportedly provide excellent maneuvering capability. Diesel generator output is 13.6MW.
Delivery is due in spring 1998, under a contract valued at over FIM300 million.
New pipelay spread
Fennica and Nordica are currently chartered by DSND through to 2001. This season, Fennica is booked to remove the pipelines from Lasmo's abandoned Staffa Field in the UK North Sea, as well as supporting EMC and Coflexip Stena Offshore on trenching duty.
Payback on a new pipelay system for the Fennica should be achieved shortly, following a letter of intent for work on Conoco's Banff development. DSND is investing #6 million in the system which will allow both rigid and flexible lines to be installed from the Fennica's stern. This should be operational by next month. On the Nordica, a new 160t crane is being installed this summer, allowing it to lift and place protection and manifold structures weighing up to 125t.
DSND's proposed scope of work on Banff is the EPCI of the subsea systems. The Ramform FPSO will be situated 1.6 km from the Phase 2 drilling centre, with provision for two producer and two water injector wells. The producers will be tied to the FPSO via a subsea manifold, two flowlines and risers, while the water injector wells will link into the subsea manifold via one riser and flowline.
Fennica and Nordica will be employed to install the three rigid infield lines - namely, the control umbilical and oil export line to a loading buoy moored 1,600m from the FPSO, and the gas export rigid line which will segway into the CATS trunkline. The vessels will also handle installation of the Ramform's mooring system and the tanker's single anchor leg mooring system, as well as six flexible risers and three manifold structures.
In theory, said a DSND spokesman, the flexible/rigid lay spread could be transferred to the new vessel, but in a different configuration - most likely for vertical laying of flexibles through the moonpool.
Copyright 1997 Oil & Gas Journal. All Rights Reserved.