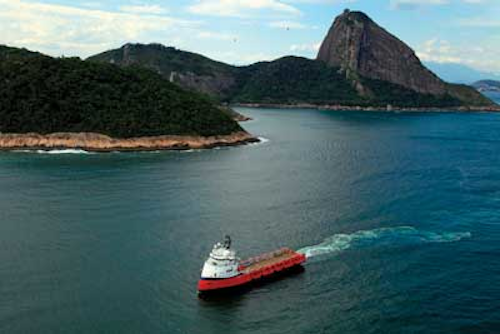 Infield Systems has issued its "Global Perspective Specialist Vessels Market Report To 2016," which provides coverage of the construction and construction support vessels that are employed in the development of offshore oil and gas fields. The third edition of this report provides analysis of global and regional trends and the supply and demand dynamics for the period 2007 through to 2016.
The report assesses the demand for offshore construction activity on a global basis to identify key regions and gauge supply developments as the world's economy slowly emerges from the recent economic downturn.
It notes that in 2009, the market was sustained to an extent by the high number of projects sanctioned during the peak years of 2006-2007. In the latter part of the year demand fell away, especially within the spot market.
The arrival of transcontinental pipelines and the deepwater tie in of various satellite wells corresponds to an increased level of subsea installations, and Infield says it expects to see activity increase throughout the period of analysis. Demand has the potential to peak during 2015.
The report notes that the largest level of demand has traditionally been found within North America and the Gulf of Mexico in particular. Infield says that the existing infrastructure in the GoM remains both a strength and an opportunity due to the availability of assets, and because some of the existing infrastructure will potentially need to be replaced at some stage in the near to medium term.
The company says it also expects substantial growth in Asia and West Africa to 2016. The growth in activity throughout Africa will be driven by West African projects where developments within Angola, Nigeria, and to a lesser extent Ghana are likely to characterize the region. African projects are one of the key constituents of the emergent deepwater market and many vessel operators see the region as key to their continued utilization of strategic assets.
The Asian market is diverse in comparison. The market is driven by numerous countries including Malaysia, India, China, and Indonesia. Each displays differing dynamics, providing a slightly different opportunity for vessel operators. This spread of demand shows that expansion in the region is not centered upon one, or even two countries like in Africa; and is instead shared, making Asian waters attractive to vessel operators keen to secure high utilization.
Within Europe, the report projects growth not from the established North Sea, but from second stage production, the west of Shetlands, and the development of trunk and export lines. The specialist vessel market has traditionally been focused upon shallow waters, with the vast majority of construction being conducted close to shore. Infield Systems says it expect to see a growth in deepwater activity as shallow-water plays are reduced in number.
PSV CBO Atlântico delivered
The platform supply vesselCBO Atlântico has been delivered, the first of six Ulstein- designed X-BOW vessels to be built in Brazil, and the very first of the PX106 design.
The vessel was constructed at Estaleiro Alianca shipyard in Rio de Janeiro, Brazil, for shipowner CBO (Companhia Brasileira de Offshore). CBO has already two PSVs of P106 design from Ulstein in its fleet.
When CBO decided to order Ulstein-designed PSVs for Petrobras' oil rigs support activities outside Brazil in 2010 and 2011, it called for ships that could operate in increasingly complex environments while providing quality services, ensuring safety, and protecting sensitive marine environments. Their final decision was to order two small vessels (PX106) and four large vessels (PX105). The vessels comply with Petrobras' PSV3000 and PSV4500 tenders, and are designed for effective and flexible transportation of bulk and general cargo to installations offshore. The contracts include delivery of design, engineering, main equipment, and commissioning follow-up.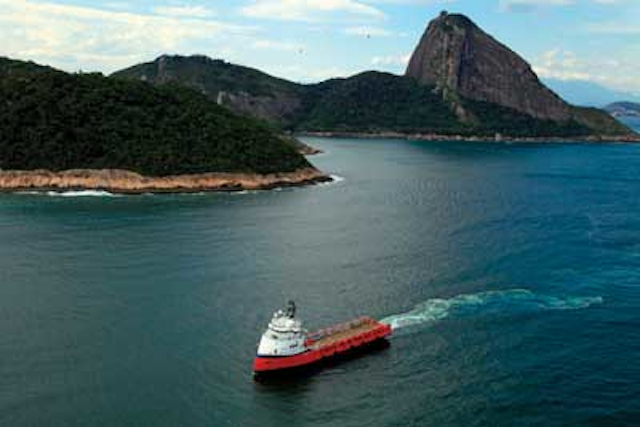 The platform supply vesselCBO Atlântico left the Estaleiro Alianca shipyard in Rio de Janeiro in early February and has now entered into an eight-year contract with Petrobras. Photo courtesy Estaleiro Alianca/Ulstein Group
CBO Atlântico measures 76.3 m (250.3 ft) (length overall) by 16 m (52.5 ft) (breadth), and the depth to main deck is 7.5 m (24.6 ft). The cargo deck area is 660 sq m (7,104 sq ft). Three of the tanks are multitanks of the Cargomax system. She has diesel electric propulsion and azimuth propellers, and can keep a speed of approximately 15 knots. The vessel left the yard on Feb. 2 and has entered into an eight-year contract with Petrobras.
The second PX106 is to be delivered later this year, and four PSVs of PX105 design will be delivered during 2012–2013.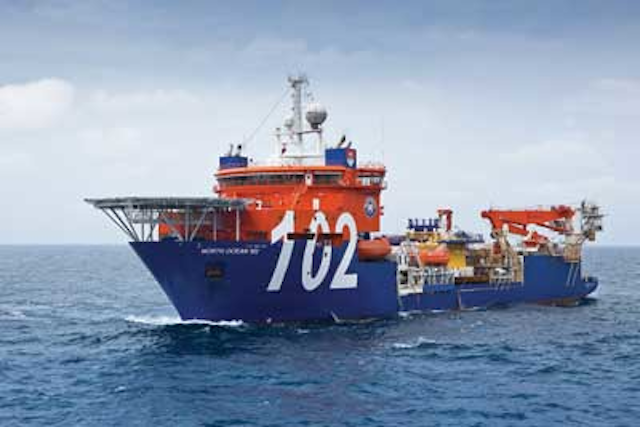 McDermott will deploy its specialty subsea construction vessel North Ocean 102 as part of its work on the Ichthys LNG project.
McDermott wins $2-billion Ichthys SURF contract
INPEX has contracted McDermott for the Ichthys gas/condensate field subsea umbilical, riser, flowline (SURF) work for $2 billion. McDermott's scope includes engineering, procurement, construction, installation, and pre-commissioning (EPIC) of production flowlines and a MEG injection system, start-up condensate transfer and fuel gas transfer flowlines, control systems, and related work.
McDermott also will install moorings for the FPSO and central processing facility, and perform installation engineering on future SURF work.
Engineering and procurement are under way and fabrication of 16,000 metric tons (17,637 tons) of subsea equipment will begin in 2013 at Batam Island, Indonesia.
Installation will use McDermott's specialty subsea construction vesselsEmerald Sea and North Ocean 102. McDermott and Heerema Marine Contractors are working on transportation and installation using the heavy-lift, J-lay, and reel lay newbuild vessel Aegir.
The Ichthys LNG project is a joint venture between INPEX and Total. Gas from the Ichthys, in the Browse basin approximately 200 km (124 mi) offshore Western Australia, will undergo preliminary processing offshore to remove water and extract condensate. The gas will then be exported to onshore processing facilities in Darwin via an 889-km (552-mi) subsea pipeline. The finished project is expected to produce 8.4 million metric tons (4.4 million tons) of LNG and 1.6 million metric tons (1.76 million tons) of LPG a year, along with 100,000 b/d of condensate at peak.
More Offshore Issue Articles
Offshore Articles Archives
View Oil and Gas Articles on PennEnergy.com