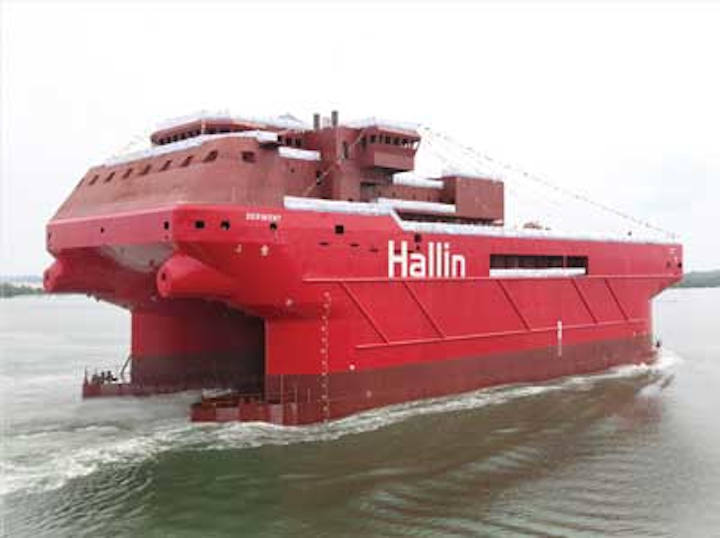 Bruce Beaubouef • Houston
Hallin Marine recently announced a major addition to its fleet of subsea operation vessels. Floated for final fit out in Nanindah, Indonesia, in early June,CSS Derwent is a compact semisubmersible designed and equipped to meet current and anticipated subsea industry demand. She will be ready for operation in 1Q 2013. The CSS Derwent is an example of Hallin's commitment to the offshore subsea services sector, says Hallin Marine's Founder and Group CEO John Giddens. With accommodation for up to 152 personnel, she is a multi-service vessel built for complex subsea operations and work scopes that cross a wide spectrum of duties, including construction support, IRM, and light/medium well intervention.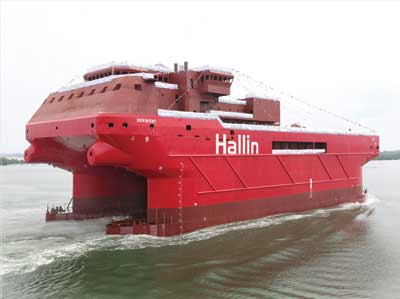 CSS Derwent">
Hallin Marine's compact semisubmersibleCSS Derwent was floated for final fit out in Nanindah, Indonesia, in early June.
Hallin Marine officials say that theCSS Derwent meets the challenges of safe deck handling with a 160 m ton (176 ton) active-heave-compensated guided modular handling system and a 150 m ton (165 ton) crane capable of working at water depths of 3,000 m (9,842 ft), supported by dedicated 120 m ton (132 ton) pallet and skidding system. She is designed for subsea construction operations such as the installation of subsea trees, manifolds, flowlines, umbilicals and subsea structures, as well as providing support to existing fields with inspection maintenance and repair services.
Responding to the challenges of deepwater operations, Hallin Marine says that the CSS design delivers stable sea-keeping characteristics. The company says that a large zone 1 rated deck (1,300 sq m, or 13,993 sq ft) and long lay down area ensure good project load carrying capacity and meet the requirements of potential hydrocarbon management.
Classed by ABS as a DP Class 3 Mobile Offshore Drilling Unit (MODU), the vessel incorporates technology from industry-leading providers such as MacGregor (lifting systems), Rolls-Royce (engines and thrusters), Kongsberg (dynamic positioning), and ABB (power management), thereby maximizing safety in operations and minimizing cost through fuel-efficient diesel electric propulsion.
CSS Derwent carries two dedicated Quantum XP 225-hp deepwater construction class ROVs cabable of working at 3,000 m water depth. Designed to undertake demanding and power-intensive subsea tasks in deepwater, the ROVs are housed below deck together co-located with built-in control rooms and workshops. They can be deployed through a dedicated centerline moonpool or from a starboard side launch position.
CNOOC completes construction of Hai Yang Shi You 201
China National Offshore Oil Corp. (CNOOC) has finished the construction of the GustoMSC-designed derrick lay vesselHai Yang Shi You 201. The vessel was built at Rongsheng Shipyard and completed outfitting at the China Offshore Engineering Corp.'s Qingdao yard.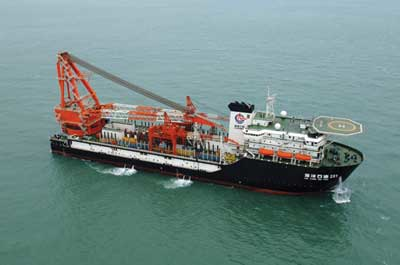 China National Offshore Oil Corp. has finished the construction of the GustoMSC-designed deepwater crane/pipelay vesselHai Yang Shi You 201.
TheHai Yang Shi You 201 is a GustoMSC DPV7500 type deepwater crane/pipelay vessel. The DPV7500 is capable of laying rigid pipe in up to 2,000 m (6,562 ft) water depth. It is designed to provide high redundancy meeting DP-3 requirements. The vessel includes the GustoMSC 4,000 mt heavy-lift offshore crane.
Its main dimensions include:
Overall length 204.65 m (671 ft)
Length between perpendiculars 185 m (607 ft)
Breadth moulded 39.2 m (131 ft)
Depth at side 14 m (46 ft)
Operational draught (pipe laying) 7-8 m (23-26 ft)
Operational draught (crane lifting mode) 8-9.5 m (26-31 ft).
Ugland calls on Kleven for new-design supply vessel
Ugland Offshore has contracted Kleven Maritime to deliver a SALT 100-design platform supply vessel (PSV) in 1Q 2014. The vessel will be built at Kleven Verft in Usteinvik. Kleven currently is building in its Mykleburst Verft facility another PSV for Ugland. It is due for delivery by the end of this month.
The new vessel, designed by Salt Ship Design AS at Stord, Norway, is 88.9 m (292 ft) long, 20 m (66 ft) wide, and can accommodate 24 persons.
The new design is tailored to meet oil companies' requirements for modern PSVs. Salt 100 combines in design and technology to improve operating costs, improve safety, and secure more efficient operations. The vessel will reportedly be the first of its kind to incorporate a new and more efficient cargo handling solution.
Bergen Group contracts for newbuild construction vessel
Bergen Group has awarded a NOK 1-billion ($163.9–million) contract with ship owner North Sea Shipping AS for construction of an offshore construction vessel that can lay flexible pipe and cables. Scheduled for delivery in 2Q 2014, the vessel length is 142 m (466 ft) with a beam of 27 m (89 ft) and capacity for 120 crew. Skipsteknisk is designed the ST-261 type vessel.
The ship is equipped with DP-3 positioning, and has an offshore crane with a lifting capacity of 400 tons and capacity of construction work down to 3,000 m (9,842 ft) of water. The ship will also have two 3,000-m capable ROVs. The working deck area is around 2,000 sq m, which can withstand a load of 15 tons/sq m.
The ship has a large carousel below deck, with storage capacity of up to 2,000 tons of cable or flex pipe. In addition, the ship is designed to mount another carousel on the main working deck. Plans call for the hull will be built abroad and then towed to Bergen Group BMV for outfitting and commissioning in the autumn of 2013.
Statoil orders newbuild jackup for Dagny wells
Statoil has awarded Maersk Drilling a $605-million charter contract for a new jackup, to be built by Keppel FELS in Singapore.
The jackup rig will drill development wells on the Dagny oil and gas field in 120 m (393 ft) water depth in the Norwegian North Sea. Dagny and its planned satellite tie-in Eirin are among Statoil's major pending developments. The fields hold an estimated 300 MMboe of oil and gas.
This will be the third Gusto MSC CJ70 jackup under construction by Keppel FELS for Maersk Drilling, following an order for two similar rigs in February 2011. Maersk also has an option to order an additional jackup of the same design from the yard.
The CJ70 design is for harsh environment North Sea operations in water depths of up to 150 m (492 ft). Features include offline pipe handling and simultaneous operations, and an enlarged cantilever reach, claimed to provide increased drilling efficiency. Up to 150 personnel can be accommodated onboard in single cabins. Maersk's contract on Dagny runs for four years with two one-year options.
Production drilling should start in summer of 2015 with pre-drilling through the jacket, prior to set down of the platform deck the following summer of 2016, in order to accelerate production.
More Offshore Issue Articles
Offshore Articles Archives
View Oil and Gas Articles on PennEnergy.com