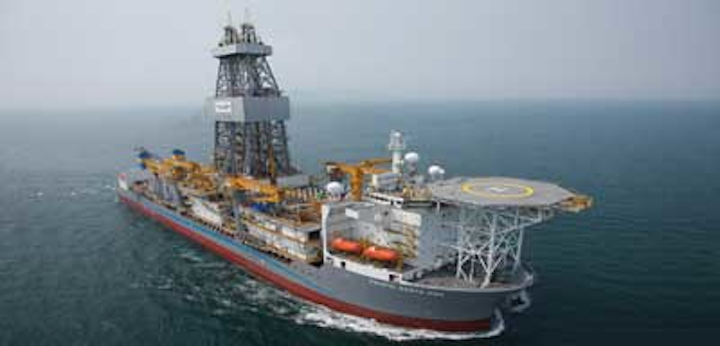 Bruce Beaubouef • Houston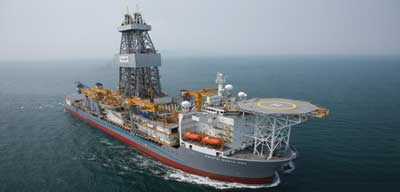 The deepwater drillship Pacific Santa Ana, the first drillship designed with the capacity to perform dual gradient drilling, has arrived in the GoM to work for Chevron under a five-year contract. Photo courtesy Pacific Drilling.
Chevron Corp. reports that the deepwater drillshipPacific Santa Ana has arrived in the Gulf of Mexico to work for Chevron under a five-year contract with a subsidiary of Pacific Drilling S.A. Pacific Santa Ana is the first drillship designed with the capacity to perform dual gradient drilling (DGD).
"Pacific Santa Ana will enable us to demonstrate dual gradient drilling, which has the potential to change the way deepwater wells are drilled," said George Kirkland, vice chairman, Chevron Corp. "This new process builds on our record of technology leadership in deepwater."
Unlike conventional deepwater drilling, which uses a single drilling fluid weight in the borehole, dual gradient drilling employs two weights of drilling fluid – one above the seabed, another below. This allows drillers to more closely match the pressures presented by nature and effectively eliminates water depth as a consideration in well design. DGD also allows drillers to more quickly detect and appropriately react to downhole pressure changes, which can enhance the safety and efficiency of deepwater drilling operations.
Pacific Santa Ana is equipped with a DGD riser, a mud lift pump handling system, six mud pumps – three for drilling fluid and three for seawater – extensive fluid management system enhancements and more than 72,000 ft of DGD-related cables. After additional equipment is installed and tested, Pacific Santa Ana will be used for exploratory and development drilling in the deepwater Gulf of Mexico.
"The addition ofPacific Santa Ana as Chevron's fifth drillship in the deepwater Gulf of Mexico demonstrates our long-term commitment to developing America's energy resources," said Gary Luquette, president of Chevron North America Exploration and Production Co. "We are bullish on the Gulf, where robust energy exploration and development is vital to our nation's economy and energy security."
Dockwise Vanguard wins awards, redefines heavy transport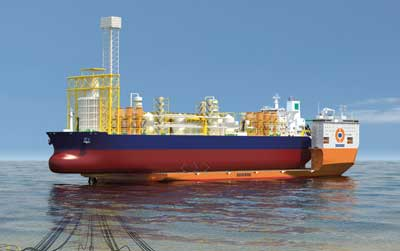 Dockwise Ltd. says that the Dockwise Vanguard will redefine the limits of heavy marine transport and open a new market for offshore dry-docking.
Dockwise Ltd. says it has engineered the most innovative semisubmersible heavy-lift vessel in history and redefined the limits of heavy marine transport with the design of theDockwise Vanguard. Additionally, the vessel is expected to open a new market for offshore dry-docking, says Robb Erickson, Dockwise Ltd. Vice President of Sales–Heavy Marine Transport. The innovative vessel design has been recognized with the OTC Spotlight on New Technology Award and the Royal Association of Dutch Shipowners (KNVR) Shipping Award.
Some 300 yd (274 m) long and 76.5 yd (70 m) wide, the company says that theDockwise Vanguard will be the largest semisubmersible vessel ever built. It has a carrying capacity of 117,000 deadweight tonnage (DWT) and travels across oceans at 14 knots. Additionally, the Dockwise Vanguard is said to have a 50% greater lifting capacity and 70% larger deck area than the current largest active heavy lift ship, the Blue Marlin, also owned by Dockwise.
TheDockwise Vanguard was designed for both dry-transport and offshore dry-docking markets. Dry-docking capabilities enable inspection, maintenance and repair service opportunities while keeping an FPSO unit on location. Dockwise says that the vessel opens a new market for future reliable mega transports, including the dry-transport of large FPSOs, spars, TLPs, and fully integrated floating production units with a carrying capacity of up to 117,000 DWT, in a safe and efficient manner.
Expected delivery is planned for 4Q 2012. Subsequently, theDockwise Vanguard will transport Chevron's Jack/St. Malo platform hull from Korea to the Gulf of Mexico, and transport the Eni Goliat FPSO to Norway. A letter of intent is pending for a third contract.
Ulstein delivers second newbuild PSV to CBO for Petrobras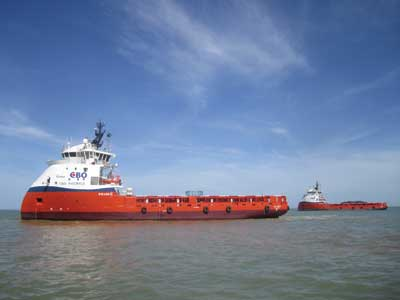 Ulstein has delivered the CBO Pacifico platform supply vessel directly from the Estaleiro Alianca yard into a contract with Petrobras.
Ulstein has delivered theCBO Pacifico platform supply vessel, the second PX106 design newbuild for CBO this year. The vessel went directly from the Estaleiro Alianca yard into a contract with Petrobras.
These first two PX106 vessels are relatively small, said Ulstein, and comply with Petrobras' PSV 3000 tender. The next four are of the larger PX105 design that complies with the PSV 4500 tender. All vessels will be working on eight-year contracts for Petrobras. The four PSVs of the PX105 design will be delivered during 2012–2013.
CBO Pacifico is 76.3 m (250 ft) long by 16 m (52.5 ft) wide. The cargo deck area is 660 sq m (7,105 sq ft). Three of the tanks are multitanks of the Cargomax system. She has diesel electric propulsion and azimuth propellers, and can keep a speed of approximately 15 kt. CBO Pacifico complies with the CLEAN notation from Det Norske Veritas.
More Offshore Issue Articles
Offshore Articles Archives
View Oil and Gas Articles on PennEnergy.com