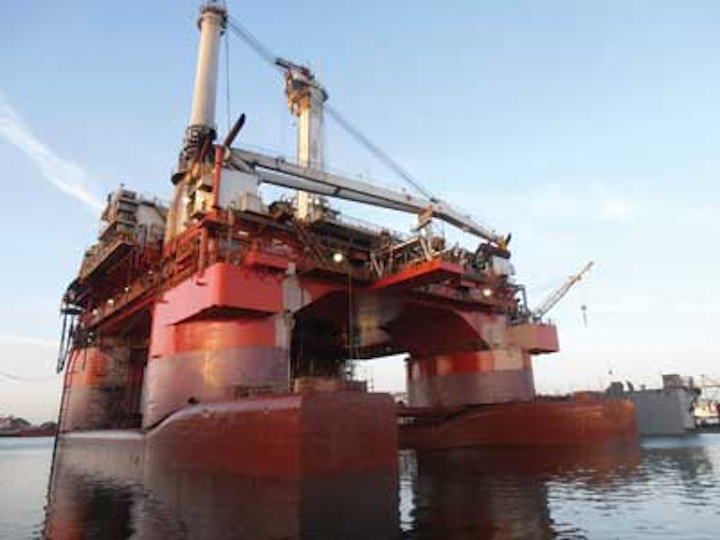 Bruce Beaubouef
Managing Editor
Offshore industry service companies are making plans to serve the growing demand for well intervention by refurbishing existing rigs and designing new ones that will better suit the particular needs of the market.
The subsea well market is expected to grow as production moves into deeper water and the number of subsea wells increases. According to one estimate, subsea trees are expected to increase at an 18.3% compound annual growth rate (CAGR) and global offshore rig count is expected to increase at a 5% CAGR from 2010 to 2015. That discrepancy, analysts say, points out the opportunities for the well intervention market.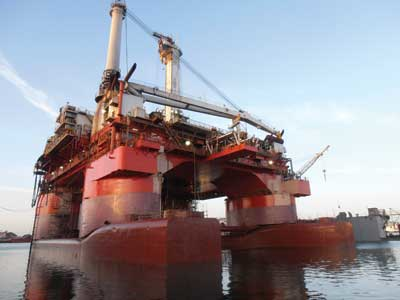 Helix Energy Solutions' Q4000 semisubmersible was drydocked at the Keppel AmFels shipyard in Brownsville, Texas, for maintenance and inspection in April, in preparation for upcoming well intervention activities. Photo courtesy Helix Energy Solutions.
As these wells age, the demand and frequency of required servicing through intervention will increase. Maintenance activity will rise as a greater share of production moves into deepwater, and operators need to increase recovery from maturing fields. Global expenditures on intervention are expected to grow 11% annually in the 2009-2014 timeframe, reaching nearly $3.8 billion per year.
The need for intervention typically occurs after five years of production, due to reduced pressure in wells, increased water or sand production, scaling in wells, and other factors. Oil wells generally have a greater need for intervention than gas or injection wells.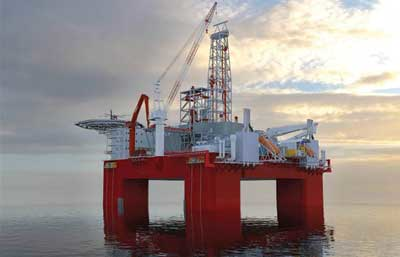 Rendering of proposed new type Category B well intervention vessel. Image courtesy Statoil.
Historically, well intervention activities were performed with drilling rigs. But increasingly, the industry is recognizing that purpose-built vessels – semisubmersibles, in particular – are a better solution and cost-effective option for well intervention.
Helix Energy Solutions, one of the key players in the well intervention market, recently held a seminar in South Texas to highlight the capabilities of its well intervention fleet. That fleet included include the MODU DP-3 semisubmersible vesselQ4000, the MSV DP-3 Well Enhancer, the MSV DP-2 Seawell, and other vessels of opportunity. The seminar also included a tour of the Q4000, drydocked at the Keppel AmFels shipyard in Brownsville for maintenance and inspection. The company, which has been in offshore well intervention since the 1980s, recognizes that the market is still "in its infancy," says Owen Kratz, Chairman and CEO of Helix ESG.
Company officials believe that the market for vessels like theQ4000 is positively influenced by the fact that they are more cost-efficient than deepwater drilling rigs for well intervention activities. "Semisubmersible vessels are the key to the intervention market," said Colin Johnston, Helix Well Operations Senior Engineer, at the seminar. Kurt Hurzeler, Well Operations Commercial Manager for Helix, also noted that the semisubmersible offers advantages over a monohull, notably in a more stable platform and better (longer) weather window.
Helix officials also noted that theQ4000 had been a key part of the Macondo spill response effort, and could move to the site in one-fourth the time it would have taken a drilling rig to arrive at the scene. Thus, another advantage of the semisubmersible vessel in the intervention market is its speed.
As testament to its belief in the intervention market, in March Helix contracted Jurong Shipyard in Singapore to build an upgraded, larger version of theQ4000. The new vessel (as yet unnamed) is expected to have the following capabilities: through tubing well intervention; extended top hole drilling; riserless mud return; a subsea rotary controlled device; well flowback/well testing; subsea construction and processing support; and open water completions. It is expected to be completed in 2015.
In the North Sea, efforts are also being made to address opportunities posed by the well intervention market. In April, Statoil ordered a new type of intervention vessel from Aker Solutions – a "Category-B" rig designed to help increase recovery rates from existing fields.
In cooperation with the supplier industry, Statoil has developed a new type of rig and well control system specially adapted to carry out well intervention and drilling operations in existing subsea wells. The rig will be a newbuild Category B (Cat-B) well intervention semisubmersible, to be owned and operated by Aker Oilfield Services.
Cat-B is designed for year-round well intervention. It will perform through-tubing rotary drilling, wireline, coil tubing, high pressure pumping, well testing and cementing, and ROV operations, and will operate in water depths up to 500 m (1,640 ft).
This rig fills the gap between light intervention vessels (Category A) and conventional rigs (Category C) and is designed for year-round well service in Statoil-operated activities. The Cat B design provides the option for a number of different types of well interventions using wireline and coiled tubing operations.
The contract will be managed out of Aker Oilfield Services' offices at Skøyen, Oslo. Aker Solutions' subsea technology and manufacturing center at Tranby will supply the riser and well control package.
Aker Solutions will also provide the conveyance equipment and intervention services including coil tubing and wireline through its Stavanger-based well service business. And it will provide facilities to enable a third-party contractor to supply cementing services, which Statoil will manage under a separate contract.
Statoil and the licensees will enter into an eight-year contract with options for three two-year extensions for the service. The estimated value of the contract is $1.9 billion. In addition to rig rental, the contract also includes rental of the equipment and services needed to carry out well intervention, side-track drilling, ROV operations, well testing, and cementing.
More Offshore Issue Articles
Offshore Articles Archives
View Oil and Gas Articles on PennEnergy.com