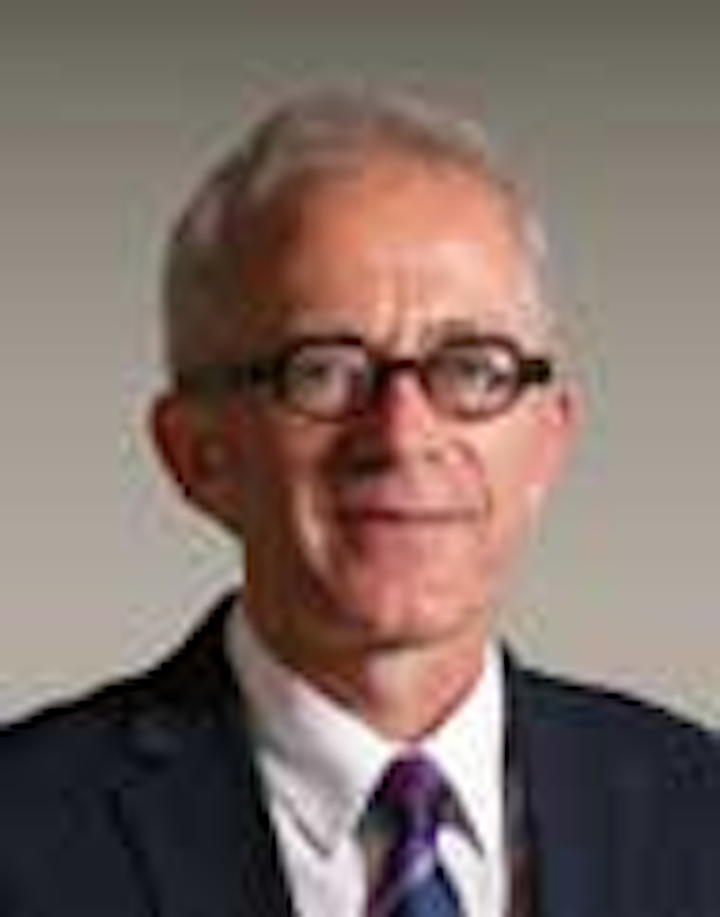 | | | |
| --- | --- | --- |
| | | Russell McCulley • Houston |
Global spending on FLNG projects will reach $47.4 billion between 2013 and 2019, according to a new report from Douglas-Westwood. TheWorld FLNG Market Forecast projects that FLNG liquefaction spending will total more than $28 billion over the period, while about $19.1 billion will be spent on import terminals. Driven by demand for electricity, Asia will account for roughly 35% of the total spend, followed by Australasia at 22% and Latin America at 17%.
Study author Murray Dormer said FLNG could prove to be a sensible option in areas that have significant offshore gas reserves but lack infrastructure or pose political risks to operators.
"Interruption of gas supplies either via political or security-related risks are an ongoing issue in the exploration and production business," Dormer said. "Boundary disputes, threats of civil unrest, and war and terrorism are all ever-present challenges that the oil and gas industry is well-used to encountering. However, by siting infrastructure offshore, FLNG could help mitigate some proportion of risk in regions where these issues are apparent."
Shell's Prelude FLNG development, in the Browse basin offshore Western Australia, is expected to reach first production around 2017. The floating facility will have a production capacity of 3.6 MMtpa of LNG. Petronas is developing a 1.2-MMtpa FLNG vessel for the Kanowit gas field offshore Malaysia, with a target startup in 2015. The technology is being considered for Noble Energy's Tamar field offshore Israel. "For more than 30 years FLNG export has been an ambition of the offshore industry, but it is now well on the way to reality," commented Dormer.
Helix divests pipelay assets
In an ongoing effort to refocus its business on well intervention and robotics, Helix Energy Solutions Group has agreed to sell its fleet of three pipelay vessels for nearly $252.8 million. TheCaesar and Express vessels and related equipment were acquired by Coastal Trade Ltd. for $238.25 million; pending regulatory approval, both pipelay vessels will be under exclusive charter to EMAS AMC. The third ship, Intrepid, was sold for $14.5 million to Stabbert Maritime and its Ocean Sub Sea Services subsidiary.
The 10-year-old, 146 m-long (480-ft)Caesar S-lay pipeline installation vessel features a 400-ton tension capacity and can handle pipe of up to 30-in. OD. The multi-service vessel Expressmeasures 162 m (531 ft) in length, with two reels that can hold up to 3,000 tons of pipe up to 14-in. in diameter. The 116.3-m (380-ft) Intrepid can deploy reeled pipeline in water depths of 7,000 ft (2,133 m). Stabbert, based in Washington state, has said it intends to keep the Intrepid in the Gulf of Mexico.
A spokesman for Helix, Cameron Wallace, said: "Helix divested its pipelay assets in order to focus more fully on our leadership positions in the well intervention and ROV services markets. With new vessels like theHelix 534, Skandi Constructor, Q5000, and the Grand Canyon I, II, and III entering the fleet between now and 2015, we are committing to serve the global demand for Helix's well intervention and ROV services programs." Helix will continue to own and operate its spoolbase in Ingleside, Texas.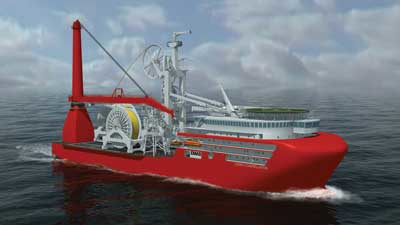 EMAS AMC's Lewek Constellation pipelay vessel, scheduled for delivery in early 2014, will measure 178 m (584 ft) in length and feature a 3,000-metric ton (3,307-ton) crane for offshore heavy lift.
Singapore-based EMAS AMC, meanwhile, is expected to take delivery of theLewek Constellation in 1Q 2014. The 178-m (584-ft) ice-classed, DP-3 vessel will feature an 800-metric ton (881-ton) multi-lay system capable of working in 3,000 m (9,842 ft) water depths, and a 3,000-metric ton (3,306-ton) Huisman heavy-lift crane.
EMAS AMC last month announced an EPCIC contract with STX Offshore & Shipbuilding for a turret mooring and subsea system to be used offshore Africa, with delivery scheduled for 2015. The company also entered into an agreement with DSME for an accommodation and hook-up support vessel, also bound for Africa, with operations expected to begin 1Q 2014.
West Mira bound for Greenland
Husky Energy has signed a five-year contract with Seadrill for the newbuild harsh environment semisubmersibleWest Mira, currently under construction at the Hyundai Samho Shipyard in South Korea. Delivery is scheduled for 4Q 2014. The contract, which includes mobilization and a performance bonus, is worth approximately $1.18 billion, Seadrill said.
Husky will useWest Mira for operations offshore Canada's east coast and in Greenland. The DP-3 rig is designed for drilling in harsh environments in water depths up to 10,000 ft (3,048 m) and will have 12-point mooring capability and potential for two six-ram BOPs. Seadrill has a similar harsh environment rig, the West Rigel, under construction and scheduled for delivery in 1Q 2015 from Jurong shipyard in Singapore.
Seadrill also announced that it will acquire the ultra-deepwater semisubmersibleSonga Eclipse from Songa Offshore for $590 million. The DP-2 rig, also operational in 10,000-ft depths, was delivered from Jurong Shipyard in 2011 and is under contract to Total for work offshore Angola. Seadrill will take delivery of the Songa Eclipse in December 2012; Total's contract expires one year later but the company has three one-year extension options.
Samsung, AMEC team up for EPCI market
Samsung Heavy industries and UK-based engineering firm AMEC have formed a joint venture to provide EPCI for large offshore production facilities. Dubbed AMEC Samsung Oil & Gas (ASOG), the JV will initially employ about 100 specialists seconded from the parent companies with plans to ramp up staffing to 500 by 2018, the companies said. Samsung, drawing on AMEC's engineering capabilities, will use the JV for future FEED and detail design of fixed and floating offshore platforms, FPSOs, and subsea pipelines.
Citing recent market surveys, Samsung said the offshore production facility business worldwide is expected to grow from $140 billion in 2011 to $310 billion by 2020, and that investment in floating production facilities over the next five years will reach $91 billion.
"By establishing the joint venture, Samsung is securing EPCI competency for large offshore production facilities," the company said. "By securing EPCI competency, Samsung will be favorably positioned to secure a higher level of profitability than in its existing business structure, where it has to outsource a large part of design and procurement processes to overseas engineering firms."
Samsung will have a 51% ownership in the JV with AMEC holding a 49% stake. Samsung's shares are further divided among SHI, with 51%, and Samsung Engineering, with 49%. At press time, the companies had yet to name a management team for the JV: a CEO to be appointed by SHI, and a CFO and COO to be selected by Samsung Engineering and AMEC, respectively.