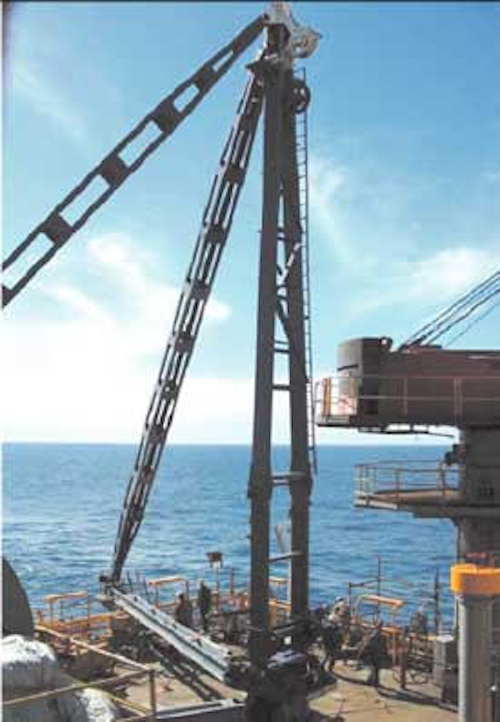 Diamond Offshore gets upgrades
The Ocean Bounty completed her special survey in Fremantle, Australia, at the end of last year. The semisubmersible spent about 28 days in the yard undergoing rig crane replacement that decked her out with a new Seatrax 6032 crane. The semi also saw a modification of the cellar deck/moonpool for increased subsea tree handling capabilities. The approximate cost of this upgrade was $2.5 million.
Diamond Offshore's semisubmersible Ocean Rover, which was designated for an upgrade late last year, has arrived in Singapore after transiting from the Gulf of Mexico onboard Dockwise's Mighty Servant I. The Victory-class semi will undergo a $200 million rebuild, similar to the one Diamond's Ocean Baroness is undergoing. Upon completion, the Ocean Rover will have a depth capability of 6,500 ft, the ability to handle 5,500 tons operating variable deck load, a 15k blowout preventer (BOP), chain/wire mooring, stability enhancements, and a riser with multiplex controls. The semi should return to service in about a year.
CNOOC gets FPSO
China National Offshore Oil Corp. (CNOOC) signed a contract with the China State Shipbuilding Corp. (CSSC) to build an advanced floating production, storage, and offloading (FPSO) vessel with 150,000 tons of storage capacity. The FPSO will have five 7,500 kW power engines and will be capable of handling 4.5 million tons of crude oil a year. The FPSO is to be used on the Fanyu oil field. CSSC subsidiary Shanghai Waigaoqiao Shipbuilding Co. Ltd. will build the FPSO, for delivery in 2003.
Jackup leaves yard
The Nanhai IV jackup, which has been in the Dalian shipyard for a year, is under tow from Dalian to China, where it will begin operations with Nanhai West. The Nanhai IV is scheduled to drill several wells this year. The first well was to be completed by the middle of February, followed by a 30-day turnkey well for Bligh Oil and Minerals in Block 22/12 in the Beibu Gulf in 100 ft water depth.
NKK launches tankers
In late December 2001, NKK's Tsu shipyards launched a 300,000 MT double-hulled tanker built for Aquamarine Shipholding Maritime S.A., operating out of Panama under a Panamanian flag. The tanker is 333 meters long, 60 meters wide, and 29.6 meters deep, with a draft of 20.84 meters. With a service speed of 16 knots, this tanker is one of the fastest of its size.
In early February, NKK's Tsu shipyard launched a 106,000 DWT Class NK/JG oil tanker ordered by Tokyo Tanker Co. Ltd. The new tanker is 243 meters long, 42 meters wide, and 20.70 meters deep. It has a 14.73-meter draft and is powered by the DU Sulzer 6RTA58T engine. The ship will have a service speed of 14.5 knots. The tanker will operate under the Japanese flag.
Shell launches a new carrier
The newly built 10,000-deadweight product carrier Asprella, which has been chartered by Shell companies for three years, was officially named in mid-December at a ceremony held in the Frisian Shipyard, Welgelegen, Netherlands.
The double-hulled vessel, leased from Pritchard-Gordon Tankers Ltd., was specially built with a shallow draft to trade up the rivers in South America for Shell's business activities based in the Caribbean. Shell International Trading & Shipping Co. in London will manage the vessel.
Nabors launches a workover/drilling rig and upgrades jackups
Late last year, Nabors Offshore completed a new platform workover/drilling rig called the Super Sundowner XVIII, a larger version of Nabors' Super Sundownertrademark design. The new rig can handle 440,000 lbs hook load and pipe in trebles. The rig has 950 bbls of workover fluid capacity and is effectively equipped with support functions to perform all workover tasks.
The Nabors jackup Al Borz formerly Momentum II, has undergone a major upgrade in the United Arab Emirates and was scheduled to leave the Maritime Marine Industrial Services shipyard in Sharjah this month. A change in the original upgrade plans increased the cost from $9 million to between $12 million and $15 million.
Nabors is also refurbishing the Key Bermuda, a 200-ft jackup, which will move on Dockwise heavylift vessel Mighty Servant III to Lamprell's Sharjah yard. The rig, which has been purchased from GlobalSantaFe, will be renamed the Nabors Rig 657 when modifications have been completed in mid-year.
Jackup becomes production platform
BP's 250 ft jackup DMS Venture will undergo conversion to production mode at Marine Maritime Industrial Services (MIS) in Jebel Ali.
The MIS contract includes fabrication, installation of new machinery, installation of new legs, installation of new spud cans, new classification for the hull, installation of an early production module, and installation of an 18-man accommodation unit.
The conversion process is expected to take a year, at which time the DMS Venture will get a new name before beginning work on the Al Rayaan field offshore Qatar.