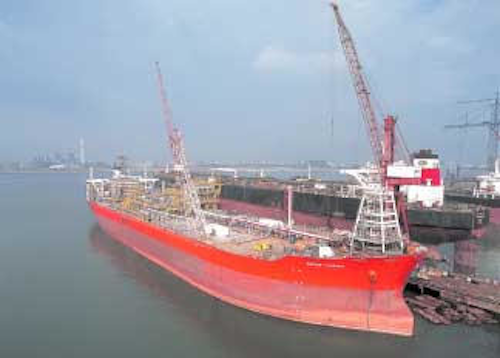 FPSO conversion on track
Prosafe's conversion of the floating production, storage, and offloading (FPSO) vessel Espoir Ivoirien is on schedule. The vessel was renamed at Keppel's Singapore yard in October and departed for Côte d'Ivoire in November. Final connection and commissioning of the FPSO was to take place upon arrival in preparation for first oil in 1Q 2002.
Atlantia builds TLP
Atlantia has contracted to supply TotalFinaElf with engineering, procurement, construction, and installation of the Matterhorn Surface Completion SeaStartrademark TLP in 2,800 ft water depth. The facility will be able to support up to nine surface trees, future subsea well tiebacks, and produce 33 million b/d of oil and 55 MMcf/d of gas. The platform is scheduled to be installed in 2003. Atlantia awarded hull fabrication to Keppel FELS Ltd., Singapore.
GlobalSantaFe readies jackups for Africa
GlobalSantaFe received a letter of commitment from TotalFinaElf subsidiary Elf Petroleum Nigeria Limited for two-year contracts for the Glomar Adriatic I and Glomar Baltic I jackups. They will work on the Amenam/Kpono field offshore Nigeria. The contracts for the jackups includes rig upgrades for the Glomar Adriatic I, a Marathon LeTourneau 116-C design equipped with 410 ft of leg. Rig modifications will include installation of a third 5,000-psi mud pump, five new engines, a new top drive, increased mud pit capacity, larger drill pipe, and expanded crew quarters. The Glomar Baltic I, which recently underwent a significant upgrade, will see increased mud pit capacity and work to the crew quarters, making this rig the highest specification jackup offshore West Africa.
Sonsub gets ROV support vessel
In mid-November, Sonsub announced the acquisition of the HOS Dominator, a newbuild 240-ft Class 2 dynamically positioned vessel outfitted with a 3,000-meter Innovator ROV. The vessel will begin working for Sonsub this month under a three-year agreement with Hornbeck Offshore.
Hornbeck-Leevac gets supply vessel
In late November, Horn-beck-Leevac Marine Services, Inc. took delivery of the BJ Blue Ray, a 265-ft. class deep-water offshore supply vessel that will work primarily in the deepwater Gulf of Mexico. The BJ Blue Ray Ray began service under a five-year time charter with BJ Services Company to support well stimulation services.
Bollinger delivers supply/utility vessels
Bollinger Shipyards, Inc. delivered the Seacor Eagle and Seacor Hawk, two 145-ft supply/utility vessels to Sea-cor Marine, Inc., Houston, Texas in 4Q 2001. Both vessels have 2,800 sq ft of aft deck space with a maximum deck load of 390 tons. They are outfitted with four mud tanks with a total capacity of 50,000 gallons. The vessels can carry over 60,000 gallons of fuel, 560 gallons of oil, and 10,000 gallons of fresh water.
AMEC builds FPSOs for Africa
AMEC is providing both Shell's Bonga and ExxonMobil's Kizomba FPSOs for Nigeria and Angola, respectively. The Bonga hull was floated out of drydock in November by Samsung. The internals of the hull will be outfitted before it is towed to the UK for completion in August 2002. Bonga will be one of the largest FPSOs in existence at 300,000 dwt.
FPSO conversion for Amerada, Bergesen
Amerada Hess Corporation and Bergesen DY Offshore AS announced the completed conversion of an FPSO that will work in the Ceiba Field off Equatorial Guinea. The Sendje Ceiba will replace the Sendje Berge FPSO working on the Ceiba Field. The newly converted vessel has been outfitted with onboard liquid-processing capacity of 160,000 b/d and water-injection capacity of 135,000 b/d. The vessel's crude oil storage capacity is 2 million bbl. Plans are in place for Ceiba wells to be hooked up and producing to the FPSO in the first quarter of this year.