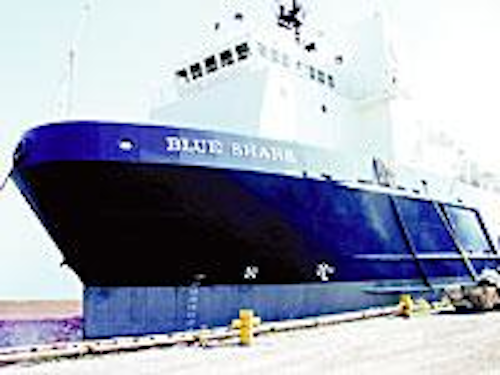 A new Halliburton Energy Services vessel, the Stim Star III, was launched from Houston in April for service in the Gulf of Mexico. Stim Star III is similar to the twin Stim Star and Stim Star II vessels, except that it is 20 ft longer at 260 ft, has additional proppant and liquid capacity, and more horsepower, with two additional Grizzly pumping units and capacity to add four more.
The Stim Star III vessel delivers two new technologies through its FracPac service and offshore fracturing systems SeaQuest and MicroPolymer.
In February, Halliburton launched another ultra modern multi-purpose support vessel, MSV Subsea Viking, in the GoM. The vessel is designed for a wide variety of field development and maintenance tasks, including, flexible flowline and umbilical lay, manifold and template installation, remotely operating vehicle (ROV) operations, survey work, and other subsea intervention operations. This 340-ft vessel is particularly suitable for supporting deepwater operations. Key features include a 100-ton heave compensated crane, a 1,200-ton below deck carousel, twin 10,000-ft-rated work class ROV systems, and 12,400-sq-ft of available working deck area.
New Latin American vessel
The Blue Shark is significant for the BJ Services fleet because it is the second state-of-the-art stimulation vessel the company has launched in the past six months and strengthens its competitive position in the Latin American market.
The Blue Shark is similar to the BJ Blue Ray, which launched in November for service in the Gulf of Mexico. The Blue Shark has slightly less onboard pumping horsepower. That works well for the lower fracture gradients in the Campos Basin, which don't require as much pressure, although they do require greater acidizing capacity.
Enhanced systems
The MV HR Hughes fracturing and stimulation vessel is 270 ft by 56 ft, carries over 2,200,000 lb of proppant to location, and has over 1,000,000 lb on deck contained in twin PropMASTER 5,000-cu-ft silos for backup proppant delivery.
Backup capability is designed throughout, with twin 50-bbl/min frac blenders, six each SC FRAQ 2,000 pumps delivering 12,000 hp, two 3-in.-diameter, 15,000-psi Coflexip hoses, and backup hydraulic power pack units for all systems.
The 60-bbl/min pump rate and over 1,000,000 lb of proppant make it one of the largest proppant capacity fracturing vessels in the world. The HR Hughes is full DP-1 and provides 24/7 satellite communications. It provides full gel FRAQ PAQSM fracturing service, H2O FRAQSM, H2O PAQSM, and acid stimulation capabilities.
The 224 ft by 54 ft MV RC Baker fracturing and stimulation vessel pioneered 24/7 satellite communications. The RC Baker provides full gel FRAQ PAQSM fracturing service along with H2O FRAQSM, H2O PAQSM, and acid stimulation capability. The vessel carries 1,000,000 lb of proppant with 2,500 cu ft of proppant capacity on deck, 8,000 hp and 300 ft of 3-in., 15,000-psi Coflexip hose, providing the operator with a maximum clean rate of 30 bbl/min. The vessel has extra large deck space to place additional pumps, nitrogen units, and equipment.
Larger capacities
Schlumberger's DeepSTIM stimulation vessel is compatible with all types of platforms, semisubmersibles, and drill ships. The vessel design incorporates exceptionally large capacities for storage of proppant and fluids, in addition to continuous mixing capabilities.
High-performance fracturing fluids capable of significantly lowering friction pressure to allow for higher fracturing rates (or less horsepower on location for faster delivery) are pumped on station from the vessels in the Schlumberger deepwater stimulation fleet.
FracCAT monitoring and control systems aboard these dynamically positioned vessels offer Web-based data delivery with secure, real-time, two-way communication to a centralized iCenter, where information is received, processed, and made available to clients at offsite locations.