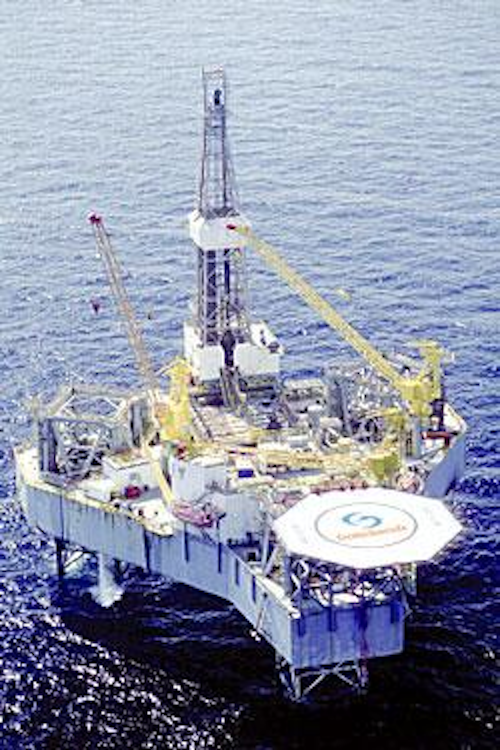 Petrobras plans upgrades
Petrobras has awarded Jurong Shipyard the contract to refurbish an oil tanker into a $500-million offshore rig to be called P-50. The 180,000-b/d rig should start producing in 2004 at the Albacora Leste field in the Campos Basin, which accounts for over 80% of Brazil's total oil output.
Petrobras said it would solicit bids in the second half of the year to build two rigs of similar size for Marlim Sul and Roncador fields in the same basin.
Other work on the horizon includes the conversion of the P-47 into a processing and treatment unit for the Marlim field and the construction of two new fixed rigs for the Campos basin and Espirito Santo coast.
Petrobras expects to spend $4 billion on upgrade and newbuild projects.
Jackups re-enter the market
Two of GlobalSantaFe's jackups recently underwent major overhauls in preparation to fulfill two-year contracts on the Amenam/Kpono field offshore Nigeria.
The 300-ft jackup Glomar Adriatic I was in the harbor in Douala, on the west coast of Africa, for the duration of the upgrade process. Enhancements to the rig include installation of a third 5,000-psi mud pump, five new engines, a new top drive, increased mud pit capacity, larger drill pipe, and expan-ded crew quarters.
The Glomar Bal-tic I, a Marathon Le-Tourneau Super 300 design with 515 ft of leg, completed a contract off Trinidad before undergoing an upgrade in Chaguaramus.
Prior to its most recent upgrades, the Glomar Baltic I underwent a significant upgrade, including installation of three new 7,500-psi mud pumps and five new engines.
Additional upgrades for Amenam/ Kpono include increased mud pit capacity, expanded setback area, enhanced skidding capabilities, and improved accommodations. These upgrades make the Glomar Baltic I the highest specification jackup rig on the west coast of Africa.
Keppel conversions
Keppel Shipyard, Singapore, has been awarded three contracts for FPSO conversions, with a total contract value of $91.1 million.
Keppel will complete the conversion of the Amazon Eagle by 2Q 2003. The Amazon Eagle will be Keppel Shipyard's sixth conversion for Single Buoy Moorings Inc. The FPSO will be deployed to the Zafiro field off Equatorial Guinea upon completion.
SBM's FPSO Falcon was named at the end of June, and work on SBM's Brasil was to be concluded at the end of July 2002.
The second of the new conversions will be done for Prosafe Production Pte Ltd. The 132,500-dwt tanker Grey Warrior arrived at the yard in early July for conversion to an FPSO. Delivery is scheduled for December 2002, after which the Grey Warrior will be chartered to Agip for deployment to the Abo Field, offshore Nigeria.
The third FPSO conversion is being done for Four Vanguard-Servicos e Navegacao Lda. and will be used by Agip Australia Ltd. on Woollybutt field offshore Western Australia.
When these three vessels are completed, Keppel Shipyard will have completed 41 FPSO and FSO conversions and upgrades.
TL Geohydrographics of Singapore recently upgraded survey vessel Teknik Perdana for 2D seismic acquisition. The vessel will have an 8-km streamer and will carry Sercel's Syntrak 24-bit recording system, a Concept Spectra navigation system, and tuned Sodera G-gun arrays with up to 4,000-cu-in capacity. TLGH has signed a marketing and technical support agreement with Westland GeoProjects Ltd.
Early in 3Q 2002, Trico Marine Services Inc. took delivery of the Northern Canyon, a 279-ft UT 745 design platform supply vessel (PSV). Built in Norway, the Northern Canyon is equipped as an ROV vessel to perform subsea construction work. The vessel will work initially on a three-year contract for Canyon Offshore Inc. in the North Sea. The PSV is among the largest available in the industry. Trico was scheduled to take delivery of a second 279-ft PSV in September.